How to Merge Channels in Photoshop CS6
How to Merge Channels in Photoshop CS6
You can merge channels into a single image in Photoshop CS6. The channels must be opened as separate images, in grayscale mode, and have the same pixel dimensions. You can merge channels only when they're flattened images and have no layers.
Merging color channels can create some unique special effects. For example, by mismatching your channels when you merge them, you can create bizarre, and sometimes beautiful, color shifts.
To merge channels, follow these steps:
1

Open your split channel files.

Activate any one of them.
2

Choose Merge Channels from the Channels panel menu.

The Merge Channels dialog box opens.

3

In the Merge Channels dialog box, choose your desired color mode.

Any modes that are unavailable are grayed out. You may not have enough channels for the grayed-out modes.
4

Enter the number of channels you want.

When you choose your mode in Step 3, Photoshop automatically fills in the number of channels for the mode. If you deviate and enter something different, the file becomes a multichannel file.
5

Click OK.

A dialog box for the mode you selected appears.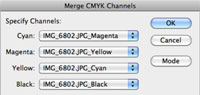 6

Select your channels in the dialog box that appears.

In the example, the Merge CMYK Channels dialog box appears. If you want to merge the channels normally, make sure that each channel matches (Red for Red, and so on). If you want to rearrange the channels, you can mix them so that the Cyan channel is mixed with the Magenta channel, and so on.
7

If you're merging into a multichannel image, click Next.

Repeat this step for each channel.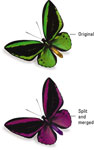 8

Click OK.

You've now merged your files into a single image, which appears in your Photoshop window.

Photoshop closes individual channel files and merges any spot channels as alpha channels.

If you have an image that includes alpha or spot channels, select Multichannel from the Mode drop-down menu (pop-up menu on the Mac) in Step 3; otherwise, Photoshop doesn't include those channels in the merged image.

After you merge the image, Photoshop gives all the channels the names Alpha 1, Alpha 2, Alpha 3, and so on. To get back to a color composite, choose Image→Mode→RGB Color or CMYK Color.