How to Make a New Photo Look Old in Photoshop CS6
How to Make a New Photo Look Old in Photoshop CS6
There may be a time when you need a new photo to look old. Photoshop CS6 has you covered. Black-and-white photography is a newer phenomenon than you might think. Daguerreotypes and other early photographs frequently had a brownish or bluish tone to them. You can create sepia-toned masterpieces of your own. Toned pictures can create a mood or otherwise transform a mundane photo into something interesting.
Without any nasty anachronisms, such as automobiles or satellite dishes, aging this image is easy.
The Photoshop Hue/Saturation feature is all you need to perform this time-traveling magic. Just follow these easy steps: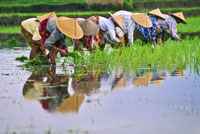 1

Open the image in Photoshop and convert it to black and white by choosing Image→Adjustments→Black & White. Make any necessary adjustments to get a nice tonal range and click OK.

You can also use a color image or start with a nicely toned black and white image.
2

Choose Image→Adjustments→Hue/Saturation.

The Hue/Saturation dialog box appears.
3

Select the Colorize check box.

This allows you to add color to the image.
4

Adjust the Hue slider to produce the tone you're looking for.

To produce a rich sepia tone, move the Hue slider to the far left. If you prefer green, blue, or some other shade, you can experiment with this slider to get the exact color you want.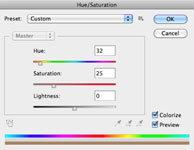 5

Adjust the Saturation slider to modify the richness of the color.

When you move the slider to the right, the color becomes more pure. You end up with a striking red at the far-right position.
6

Adjust the Lightness slider to lighten or darken the photo, depending on your mood.

Generally, you want to leave the Lightness slider at the default middle position. To create a darker, moodier picture, move it to the left; to produce a more faded look, move it to the right.