How to Gradually Fade from Color to Grayscale in Photoshop CS6
How to Gradually Fade from Color to Grayscale in Photoshop CS6
Layer masks are extremely powerful in Photoshop CS6 when it comes to blending multiple images so that one seems to dissolve into the others. Follow these steps to use a layer mask to take a single image from color to grayscale: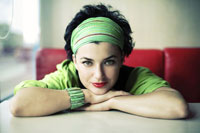 1

Open a copy of your favorite color image.

The subject matter isn't critical here, so feel free to whip out that old prom picture.
2

Choose Window→Layers. In your Layers panel, double-click the Background to convert it into a layer.

Accept the default name and click OK in the dialog box that appears.
3

Duplicate the layer by dragging it to the new layer icon at the bottom of the Layers panel.

You can also choose New Layer from the Layers panel menu and click OK.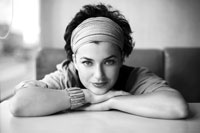 4

Make sure that your duplicated layer is the active layer and choose Image→Adjustments→Black & White. Click OK.

The Black & White adjustment will give the layer the appearance of being a grayscale image but allows it to remain in RGB mode so that you can combine it with the color layer underneath.
5

Press D to access the default colors.

This step gives you a black foreground swatch and a white background swatch in your Tools panel.
6

Make sure that the grayscale layer is the active layer in the Layers panel and click the Add Layer Mask icon at the bottom of the panel.

It's the icon that looks like a dark square with a white circle on top. Photoshop adds a second thumbnail on your layer, indicating that a layer mask has been applied.

A layer mask acts like a piece of clear acetate over your layer.
7

Select the Gradient tool and then select the default gradient of Foreground to Background.

To get the default gradient, click the Gradient Picker on the Options bar and select the first gradient.

It should be a gradient of white to black because it's based on the current foreground and background colors, which reverse when you select the Layer Mask thumbnail.
8

Drag the gradient from the top of your image to the bottom.

Or from left to right. Or at a diagonal.

9

Experiment with long drags and short drags. The angle and length of your mouse movement determine how the layer mask reveals the underlying image.

Where black appears on the layer mask, the grayscale image is hidden. Where white appears on the mask, the grayscale image shows through and everything in between allows the grayscale image to partially show.

Although this example used a linear gradient, you can experiment with the other types, as well. Radial gradients can provide some interesting effects.

When you complete your mask, save and close the file.