How to Decide How to Have Photoshop CS6 Handle Your Files
How to Decide How to Have Photoshop CS6 Handle Your Files
The options in the File Handling Preferences pane control how Photoshop CS6 handles files when they're opened and closed. Here's the lowdown on some of these options: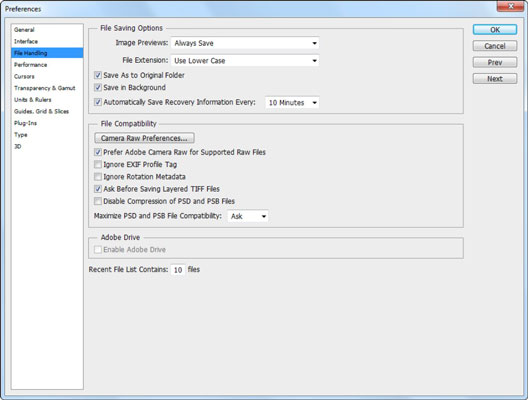 Image Previews: Storing a preview thumbnail with an image can speed up browsing for the image you want. You can tell Photoshop to save a preview by default or to ask you first (in case you want to create images that are a little smaller in size, especially for the web). Or you can also choose not to ever save a preview.

Mac users need to select the kinds of image previews they need. Select the Icon option to enable an image icon to appear on the desktop. Select the Macintosh Thumbnail option to see a preview in the Open dialog box. Select the Windows Thumbnail option to see a preview in a Windows OS dialog box.

Finally, select the Full Size option to save a low-resolution version of the file to use in applications that can open only low-resolution (72 ppi) Photoshop images.

File Extension (Append File Extension on the Mac): You can select whether the file extensions appended to filenames (such as .psd, .tif, and so forth) are consistently uppercase or lowercase, as you prefer. On the Mac, you can choose whether to add extensions by selecting from the Always, Never, or Ask When Saving options.

If you want cross-platform compatibility with PCs or you're creating web graphics, select the Always option. Mac users, select the Use Lower Case option to save extensions as lowercase characters.

Save As to Original Folder: When you choose File→Save As, your file will save to the folder you last saved that image.

Save in Background: Select this option, and Photoshop saves in the background while you keep working. A great new preference.

Automatically Save Recovery Information: Choose from 5, 10, 15, 30 or an hour. Photoshop now automatically saves a backup of your files at your selected time interval for recovery if you were to crash the program. Your original file is left untouched. This new preference alone is absolutely worth the upgrade price.