How to Create Web Galleries in Photoshop CC
How to Create Web Galleries in Photoshop CC
In Bridge's Output panel in Photoshop CC, you can generate galleries of your photos. Create quick, yet elegant, stand-alone websites of your photos for posting on the Internet.
It takes only a few steps (okay, and a lot of experimentation) to create gorgeous galleries to display your photos just the way you want them to be seen. Here's what to do: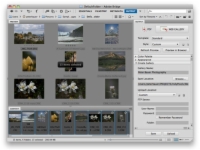 1

Select the thumbnails of the images you want to include.

Hint: You must select the images; you can't select only the folder. Bridge automatically skips any non-image files that are selected.
2

Select a template.

To the upper-right, you can see the Template menu. Choosing the template that's just right for you might take a number of experiments, but it's certainly worth exploring each of them, one at a time.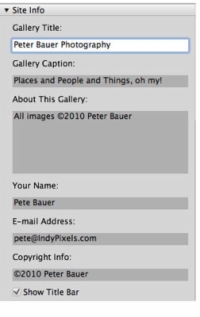 3

Fill out the Site Info.

This section is where you name the site, provide your contact info, and list the copyright notice.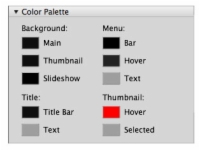 4

Choose colors for the gallery.

The options in this section vary, depending on the template selected. The figure shows what choices you'll need to make when selecting the Standard template.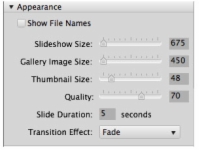 5

Fine-tune the appearance.

The content of the Appearance section also varies, depending on the selected template.
6

Preview.

Click the Refresh Preview button to see the fruits of your decision-making process in steps 1–5. You can also preview in your web browsers, which can show you any potential problems with complex templates in certain browsers. It's a great idea, too, to take the time to preview each of the templates, perhaps using the default color schemes and appearance settings, just to get a feel for them.

Bridge saves you time by only processing the first twenty of the selected images when generating a preview. When you finally have the gallery looking juuuust right and click the Save button, all of the selected images are processed.
7

Generate the gallery.

Bridge offers you the option to save your gallery to your hard drive or to directly upload it to the host web server. The web server is a computer owned by your Internet Service Provider (ISP). (Most Internet service agreements these days include space on the servers for your personal home page.) Check with your ISP for specific upload instructions — the process varies quite a bit from ISP to ISP.

If you'd like to share a gallery with friends or clients but you don't have a web server, save the gallery to your hard drive, send the entire content of the folder you choose as the destination, and instruct the recipient to open the file named index.html using a web browser's File→Open command.