How to Adjust Your Cursors in Photoshop CS6
How to Adjust Your Cursors in Photoshop CS6
The Cursors Preferences panel enables you to set several options that control how cursors display onscreen in Photoshop CS6. The following list describes the Cursor options: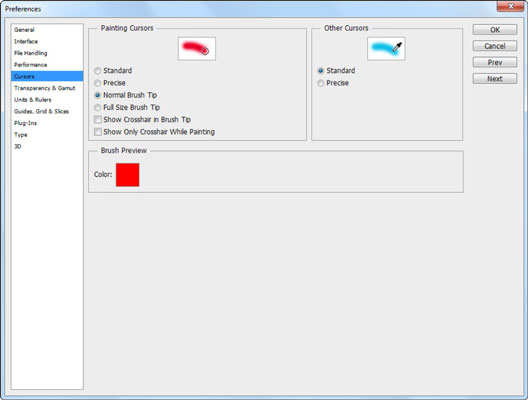 Painting and Other Cursors: Select the Standard option to show a tool's cursor as an icon representing the tool itself. Here's the lowdown on the other settings:

Precise: Switches to a cursor that has crosshairs, which is useful for positioning the center of a tool's operational area in a particular place.

Normal Brush Tip: Displays a 50% point for the brush tip, which means that the diameter of the brush tip reflects feathering of 50% or more. The wispier feathered areas of 50% or less are outside the diameter area shown.

Full Size Brush Tip: Displays the full size of the diameter of the brush tip.

Show Crosshair in Brush Tip: A great hybrid. It shows a cross hair in the center of either of the brush tips — great for precision retouching.

Show Only Crosshair While Painting: Cursor switches to just a crosshair when painting. This can be helpful when using large brushes. Showing the diameters of very large brushes can be cumbersome and slow.

Most users prefer to set the painting cursors to Normal or Full Size Brush Tip and the other cursors to Precise. Some folks complain that precise cursors are hard to see against some backgrounds, but you can always press the Caps Lock key to toggle precise cursors on or off.

Brush Preview: To change the color of your brush editing preview, click the color swatch, which takes you to the Color Picker, where you can select your desired color.