Finding Bargains Using Twitter
Finding Bargains Using Twitter
Twitter is more than just a micro-blogging site for those with minutae to share and the short attention span to do so. Following some larger names on Twitter can help you get lower prices on the things you want (or the things you just realized you want).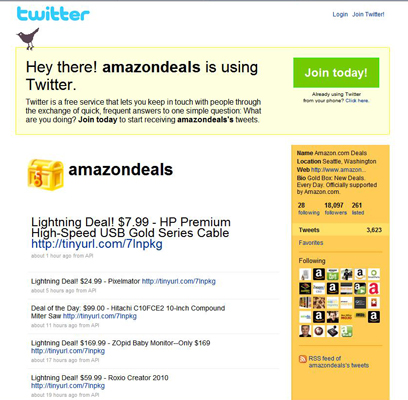 Amazon has a couple of feeds for Twitter users — the amazondeals feed notifies people about overall deals at the store, while the amazonmp3 feed specifically announces deals on the mp3 download section.
Woot.com offers a deal a day on everything ranging from kitchen gadgets to televisions, but they can be a little hard to track if you don't visit regularly. Use the woot Twitter feed to keep track of everything that hits the market, especially during their rapid-fire woot-offs.
ThinkGeek may be targeted directly at those who love tech-oriented t-shirts and binary number clocks, but if you have somebody like that in your life, this is the place to go. And they announce plenty of deals and specials on the thinkgeek Twitter feed.