Not every Twitter account is written. Quite a few really useful Twitter accounts are automated bots (short for robots) that publish Tweets that have never touched human hands. At first, this sounds kind of awful, but there are some great reasons for doing this.
Want to be among the very first to know when there is earthquake activity near San Francisco, California? Follow SF Quakebot (@EarthquakesSF) to receive Tweets based on real-time seismographic information from the USGS.
Want a funny way to explain McCarthyism to a friend? Go look at Robot J. McCarthy (@RedScareBot) which scans Twitter for Tweets containing words like "communist" and automatically shares them with ironic commentary as if they were written during the height of anticommunist witch hunts.
Concerned about government accountability? Congress-edits (@CongressEdits) automagically tweets whenever wikipedia.org is anonymously edited by someone whose IP address shows they are accessing the site from within the US Congress.
Some Twitter accounts simply syndicate material from online outlets: event listings, blogs, newspapers' websites, and so on. Done well, accounts like these are quite welcome in Twitter's community. Accounts like the New York Times (@NYTimes) and CNN (@CNN), while no longer just the bots they originally were make up some of Twitter's most-followed media accounts because even when they were 100% automated, they were still tremendously useful.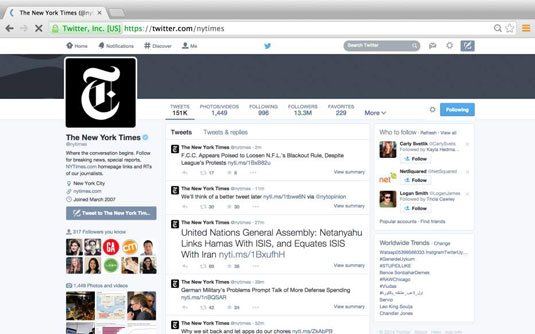 Other popular forms of automated accounts can be worthwhile. Companies don't need a human being to type great quotes or famous lines from movies and click Post. If set up mindfully and including great sharing copy and articles, an automated Twitter account that helps people follow a blog with automated Tweets can be a great idea. Or, automated Tweets can be a good addition to otherwise manually composed Twitter accounts.
Many, if not all, business users employ some degree of automation to ensure that their account is sharing useful, engaging, relevant content throughout the week at the times their audiences are more likely to want to engage with it. They do this by scouring for great stuff to share and then composing Tweets in advance, using a scheduler such as Buffer, HubSpot's Social Tools, or HootSuite.
It's also not uncommon, especially among business users, to allow certain apps to make automated posts to your otherwise handwritten account on your behalf. Use these apps with care.
About This Article
This article is from the book:
This article can be found in the category: