Connect and Chat with People on Twitter
Connect and Chat with People on Twitter
Twitter has a quick and easy tool, Interactions, which you can use to find out more about tweeters or tweeters. Did someone @ reply to you on Twitter, and you want to know more about that person? See a Tweet you like? Want to know whether you're following someone? Want to see who's following you?
1

On your Twitter page, click the icon of the bell, followed by the word Notifications.

The page opens to show Interactions: when people follow you, favorite your Tweets, or mention you. Click Mentions and you'll see a list of people who have mentioned you in their Tweets.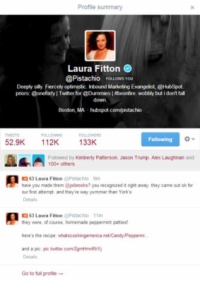 2

If you want to know more about someone, click your mouse on his or her ID or avatar.

A profile summary like the one shown appears. If you're not following the person, you see a Follow button; if you are following, you see a box in blue and the word Following.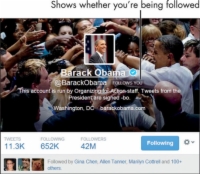 3

Before you follow someone you don't know, read the bio in the profile summary.

The person's full Twitter information shows up in the small box along with a list of other people you follow who also follow that user. If you like what you see, go ahead and follow.

If you do follow this new person — and want to know if he or she is following you — notice the words Follows You in the profile summary shown.