How to Remove Red-Eye with a Nikon D90
How to Remove Red-Eye with a Nikon D90
Fixing red-eye is easy, using the Nikon D90 Red-Eye Correction filter. Of course, the hope is that you avoid red-eye altogether with simple photography tips, like creating the right ambient light for portraits. That said, if you do need to retouch photographs with red-eye, the Nikon D90 provides its own photo enhancement filter, so you don't have to resort to a photo editor.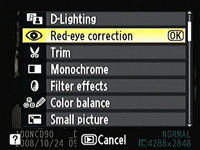 2

Highlight Red-Eye Correction, and press OK.

If the camera detects red-eye, it applies the removal filter and displays the results in the monitor. If the camera can't find any red-eye, it displays a message telling you so. (Note that the Red-Eye Correction option appears dimmed in the menu for photos taken without flash.)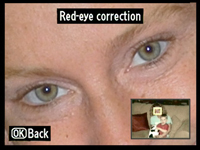 3

Carefully inspect the repair.

Press the Qual button to magnify the display so that you can check the camera's work. To scroll the display, press the Multi Selector up, down, right, or left. The yellow box in the tiny navigation window in the lower-right corner of the screen indicates the area of the picture that you're currently viewing.
4

If you approve of the correction, press OK twice.

The first OK returns the display to normal magnification; the second creates the retouched copy.