How to Crop Photos with a Nikon D90
How to Crop Photos with a Nikon D90
One of the basics of digital photography is knowing that you can alter any image. If you have excess background in a photograph, you can trim it away using the Nikon D90 Retouch menu. Trimming, also known as cropping, is an easy way to reframe an original composition to create the best photograph possible.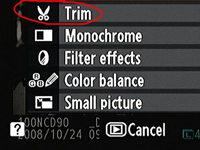 1

Display your photo in single-image view and press OK to launch the Retouch menu.

The Retouch menu appears over your photo.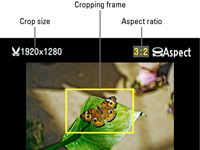 2

Highlight Trim, and press OK.

Now you see a screen similar to the one shown here. The yellow highlight box indicates the current cropping frame. Anything outside the frame is set to be trimmed away.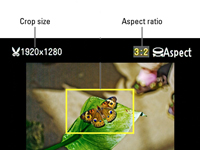 3

Rotate the main command dial to change the crop aspect ratio.

The selected aspect ratio appears in the upper-right corner of the screen. You can crop your photo to three different aspect ratios: 3:2, which maintains the original proportions and matches that of a 4 x 6-inch print; 4:3, the proportions of a standard computer monitor or television (that is, not a wide-screen model); and 5:4, which gives you the same proportions as an 8 x 10-inch print. If your purpose for cropping is to prepare your image for a frame size that doesn't match any of these aspect ratios, crop in your photo software instead.

For each aspect ratio, you can choose from six crop sizes. The sizes are stated in pixel terms — for example, if you select the 3:2 aspect ratio, you can crop the photo to measurements of 3424 x 2280 pixels, 2560 x 1704 pixels, 1920 x 1280 pixels, 1280 x 856 pixels, 960 x 640 pixels, and 640 x 424 pixels.
4

Reposition the cropping frame as needed.

Press the Multi Selector up, down, right, and left to shift the frame position.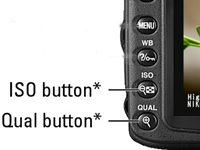 5

Adjust the cropping frame size and placement as needed.

The current crop size appears in the upper-left corner of the screen seen in Step 3. To reduce the size of the cropping frame, press and release the ISO button (labeled – in the figure here). Each press of the button further reduces the crop size. To enlarge the cropping frame, press the Qual button (labeled + in the figure here) to expand the crop boundary and leave more of your image intact.
6

Press OK to trim the image.

After you apply the Trim function, you can't apply any other fixes from the Retouch menu. So make cropping the last of your retouching steps.