How to Quickly Re-Cover an Ottoman
How to Quickly Re-Cover an Ottoman
This project is a wonderful way to spruce up an old ottoman. Maybe yours is covered in dark leather that's cracking a bit or a fabric that has generally seen better days, and you want to add it to a room with a lighter, more modern decor.
1

Measure from the floor on the left side over the top of the ottoman to the floor on the right side and add 2 inches.

Some great fabrics for covering ottomans are toile, brocade, brocatelle, tapestry, damask, denim, or even doupioni. Decide how rigorously your ottoman will be used to help you choose the fabric that's right for you.
2

Do the same from the front to the back.

Use your two measurements to cut out your piece of fabric.
3

Iron all your fabric well. Then align the center of your fabric with the center of the top of the ottoman, letting the fabric fall down evenly on all sides.

The fabric must drape so that it's almost touching the floor on all sides.
4

Fold and wrap the fabric on the sides.

This is just like wrapping a present with fabric.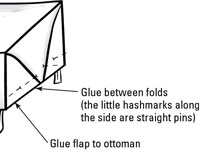 5

Pin the fabric in place with straight pins.

Trim any excess fabric around the bottom of the ottoman with scissors.
6

With your hot glue gun, glue the fabric of the folded flaps together.

Remove the straight pins as one area becomes secure. Glue in between the folds to keep the fabric from shifting. Don't be shy with the glue gun! Each time you remove a pin, be sure to add at least one large dot of hot glue in its place.