Decorating
A house is only as cozy as its decorator makes it. And if that job falls to you, check out our articles on how to make your house feel like a home.
Decorating
Feng Shui For Dummies
Published 09-11-2019
Benefit from the ancient Chinese art of Feng Shui Take a look around you. What do you see? Whether or not you're aware of it, your environment profoundly affects your health, wealth, family life, relationship, and yes, even your destiny. Feng Shui (pronounced fung shway), which means wind water, is the ancient Chinese study of harmony and energy flow between you and your physical surroundings. Now, Feng Shui For Dummies, 2nd Edition shows you how you can apply Feng Shui principles to your home (inside and out) and workplace (from window office to cubicle) in order to achieve a better life. Principles are explained in an easy-to-understand language Practical tips show you how to incorporate the traditions of Feng Shui to your everyday life Before-and-after illustrations and full-color photos of real-life Feng Shui makeovers in an all-new 8-page color insert Free of technical jargon and brimming with practical tips and advice, Feng Shui For Dummies shows you how to feel and access the energy of your environment and create harmony and happiness in your life.   P.S. If you think this book seems familiar, youÂre probably right. The Dummies team updated the cover and design to give the book a fresh feel, but the content is the same as the previous release of Feng Shui For Dummies (9780470769324). The book you see here shouldnÂt be considered a new or updated product. But if youÂre in the mood to learn something new, check out some of our other books. WeÂre always writing about new topics! .
Explore Book
Buy On Amazon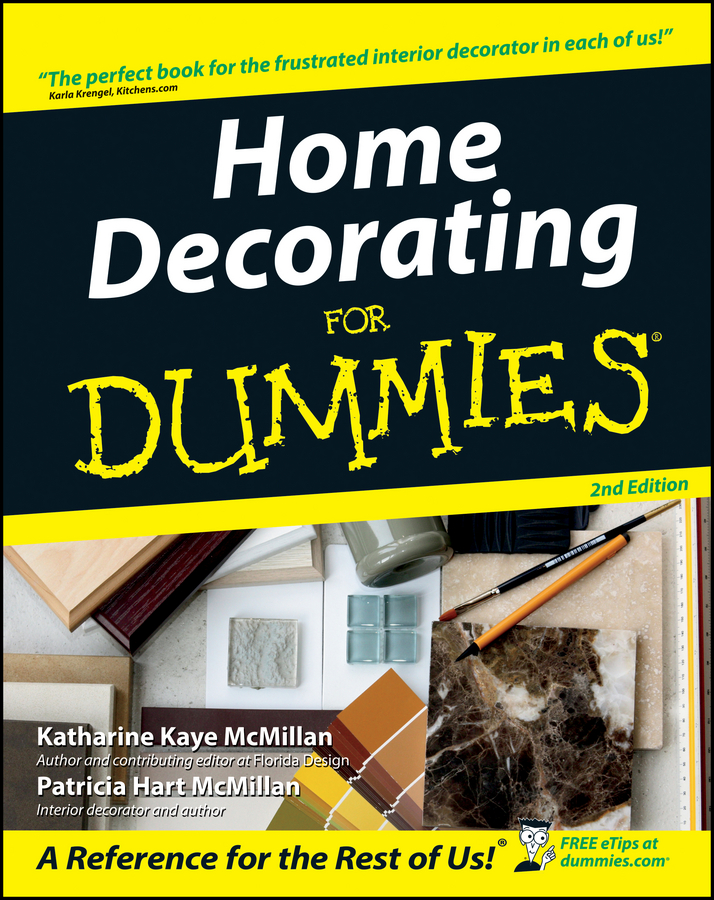 Decorating
Home Decorating For Dummies
Published 10-31-2003
Do you long to create picture-perfect rooms but can't quite seem to achieve them? Do you want better functioning spaces for working, playing, or living? Do you clamor to express your personal style? If you said "yes" to any of these questions, you've turned to the right source for real answers from the pros. Home Decorating For Dummies, 2nd Edition is for all kinds of people in all kinds of decorating situations, including: First-time buyers or renters. You have a whole new place to decorate. Where do you start? Second- or third-time home buyers. Whether you've gone up or down in size, stayed in the same region or moved to a whole new one, you need to know how to make your old furniture work in a new setting, how to add furnishings, and how to make your style seem fresh. Newly blended families. He has furniture, she has furniture, they have furniture. Can it all work together harmoniously? Indeed! And anyone else who loves decorating. Don't forget: Imagination counts. Each part of Home Decorating For Dummies, deals with a broad area of decorating, and each chapter contains specific and detailed information. You'll discover tips on Basic planning – where to begin when you want to start decorating Creating surface interest – the effects of color, pattern, and texture, and the problems created by too much or too little of them Creating backgrounds – what you need to know about the special decorating requirements of your walls Tackling tough rooms – how to effectively decorate rooms that have special functional requirements Accessorizing with art and other stuff – adding the final flourishes to every space in your place Home Decorating For Dummies, 2nd Edition contains all the basics – including how to figure out what you can spend; how to spend it; and the latest and greatest in styles, trends, and technology. What do you do with your space next? The possibilities are endless.
Explore Book
Buy On Amazon