Decorating
A house is only as cozy as its decorator makes it. And if that job falls to you, check out our articles on how to make your house feel like a home.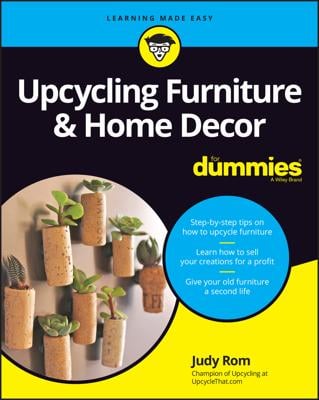 Decorating
Upcycling Furniture & Home Decor For Dummies
Breathe new life into old furniture and thrift store finds Upcycling Furniture For Dummies shows you how to revitalize old furniture, with just a little effort and imagination, and maybe a few coats of fresh paint. Upcycling furniture is affordable, good for the environment, and a whole lot of fun! This easy, step-by-step guide shows you how to get creative and put your own unique flair on your designs. You'll gain the knowledge and confidence you need to select items that are worth transforming or restoring and learn specific techniques to give old pieces a new lease on life. Learn the process of upcycling dressers, tables, chairs, and other furniture Enjoy the fun of sourcing items and increasing their value with your creativity! Update your décor with gorgeous, upcycled furniture Express yourself and find out how to flip your creations for a profit! This Dummies reference is great for anyone with an interest in turning trash into treasure.
Explore Book
Buy On Amazon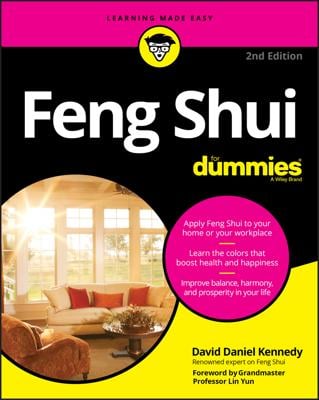 Decorating
Feng Shui For Dummies
Benefit from the ancient Chinese art of Feng Shui Take a look around you. What do you see? Whether or not you're aware of it, your environment profoundly affects your health, wealth, family life, relationship, and yes, even your destiny. Feng Shui (pronounced fung shway), which means wind water, is the ancient Chinese study of harmony and energy flow between you and your physical surroundings. Now, Feng Shui For Dummies, 2nd Edition shows you how you can apply Feng Shui principles to your home (inside and out) and workplace (from window office to cubicle) in order to achieve a better life. Principles are explained in an easy-to-understand language Practical tips show you how to incorporate the traditions of Feng Shui to your everyday life Before-and-after illustrations and full-color photos of real-life Feng Shui makeovers in an all-new 8-page color insert Free of technical jargon and brimming with practical tips and advice, Feng Shui For Dummies shows you how to feel and access the energy of your environment and create harmony and happiness in your life. P.S. If you think this book seems familiar, you're probably right. The Dummies team updated the cover and design to give the book a fresh feel, but the content is the same as the previous release of Feng Shui For Dummies (9780470769324). The book you see here shouldn't be considered a new or updated product. But if you're in the mood to learn something new, check out some of our other books. We're always writing about new topics!
Explore Book
Buy On Amazon
Decorating
Home Decorating For Dummies
Want to be your own decorator? Design on a dime with Dummies! Home Decorating For Dummies packs all the information you need to know about décor into one easy-to-read source. Whether you want to decorate one room or make over the whole house, this book has everything you need to design like a pro. This is the only reference you'll need to transform your home into a space you'll love. Dummies offers no-nonsense help, so you can plan perfect projects and stay within budget. Updated with the latest on smart homes, short-term rentals, DIY décor, and more. Learn how to optimize your home's floor plan Discover tricks for mixing patterns, colors, and textures successfully Refresh your home's style without spending a fortune Decorate rental properties with eye-catching, trendy style Untangle the terms—mid-century modern, farmhouse, minimalism—and pinpoint your design styleFor those seeking ideas, resources, and budget-wise tips to spark their decorating creativity, Home Decorating For Dummies is a must-have.
Explore Book
Buy On Amazon