How to Machine-Sew Steeks
How to Machine-Sew Steeks
If you're knitting a sweater or other garment, you need to create steeks wherever you have a seam. When machine-sewing your steeks, before you cut a piece of knitted fabric, secure the knitted stitches around the planned cut using a sewing machine.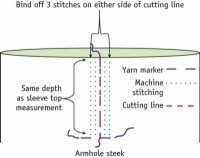 1

Measure and mark for armhole steeks.

Armhole steeks are simply straight slots cut into the sides of the completed body tube. Measure the tops of your completed sleeve tubes, and then mark the armholes to the same depth with waste yarn, as shown
here.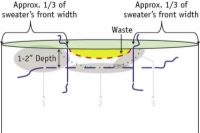 2

Measure and mark for neckline curves.

Place waste yarn markers for your neckline curve, measuring the neckline depth specified in your pattern, down from the top, then across the bottom, and then diagonally across the corner.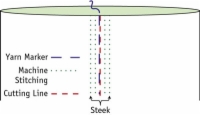 3

Mark for center front openings.

Place a yarn marker directly down the middle of your center front steek.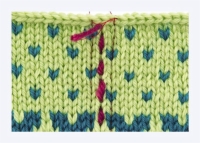 4

With the machine set to a medium-length straight stitch, sew down the center of each column of stitches adjoining the yarn marker.

It's easier to see machine-sewn steeks from the wrong side of the knitting. Check before you cut. Although machine-sewn steeks are versatile and durable, they are unsightly, too. Plan on covering them either with a knitted binding (for garment edges) or with ribbon or bias tape (for inside steek edges).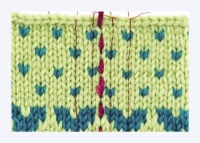 5

Sew another set of 2 stitching lines down the column of stitches 2 columns away from the first.

This amounts to the outside pass.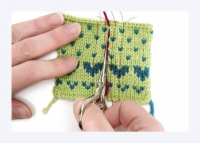 6

Cut vertically through the waste yarn marker with sharp sewing shears.

Learning to make professional-looking steeks gives your garments a finished quality.