How to Crochet Steeks
Crocheted steeks look good and are easy to make. Secure the edges of your knitted fabric using a single crochet of fingering-weight yarn. Crochet steeks do not need to be covered, so they are perfect for openings adjoining ribbed edges.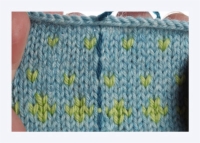 1

Mark for cutting lines.

Place waste yarn markers for each cutting line. The marker must go down the center of a single column of knitted stitches rather than in the valley between two columns.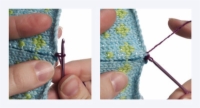 2

With hook, pull a loop from back of work to front, through lower edge of steek.

This part of the process involves setting up for single crochet.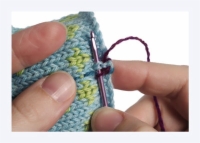 3

Catch 2nd loop around edge of work and pull through 1st loop.

Crochet steeks work only on untreated (non-superwash) 100% wool. They will pull out of knitting made from any other type of yarn.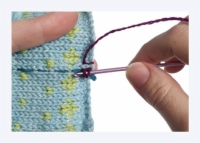 4

Pass hook under 1 leg of each st of the 2-st column adjoining waste yarn marker.

Once you pick up and knit edgings adjacent to crochet steeks, their edges will automatically fold back and away, toward the wrong side of the garment. Washing and wearing actually makes crochet steeks stronger.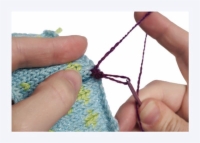 5

Wrap working yarn over hook and pull 2nd loop through. Wrap working yarn again and pull 3rd loop through prior 2 loops already on hook.

Repeat steps 2–4 without skipping any knitted sts. Break crochet yarn, pulling tail through last crochet loop. Work a 2nd row of single crochet on opposite side of waste yarn marker.