Wireless Settings on Your Fire Tablet
Wireless Settings on Your Fire Tablet
A tablet device such as Fire has dozens of settings that help you manage your tablet experience. Tap the Wireless Quick Setting to access settings to control networks and Bluetooth connections (such as those to a Bluetooth mouse or keyboard). In addition, you'll see the Off/On switch for Airplane mode.
Airplane mode is a setting you should use if you're flying on a plane which makes quick access to it handy. With this setting off, your device won't search for available networks, which could conflict with airplane communications.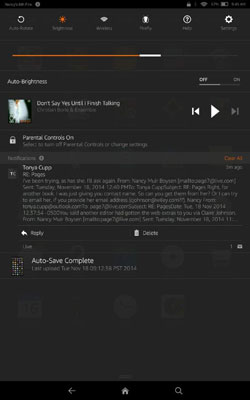 To toggle Airplane mode on and off, in Quick Settings, tap Wireless to display the Airplane mode On/Off button. With Airplane mode set to On, no available networks appear.

To connect to a network from the Wireless settings, do this:
Tap Wi-Fi and tap the On button.

A list of available networks appears.

Tap an available network to join it.

Note that you may be asked to enter a password to access some networks.