Upload Your Kindle Fire HD Music to the Cloud
Upload Your Kindle Fire HD Music to the Cloud
The Amazon Cloud allows you to upload music to your Kindle Fire HD from your computer; after you upload music, it's available to you through your Kindle Fire HD Music library. Another way to add music to your Kindle Fire HD Music library is by buying it from the Amazon Music Store.
You can also transfer a musical selection or collection stored on your computer (the music you've bought through iTunes, for example) by using the Kindle Fire HD's Micro USB cable. Any MP3s you've purchased online from Amazon are automatically stored in the Amazon Cloud. For items you've imported, the first 250 are stored for free.
Follow these steps to upload music to the Amazon Cloud: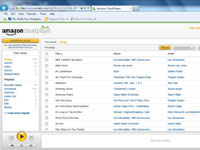 1

Go to the Cloudplayer on your PC or Mac and sign into your Amazon account.

The page shown is displayed.
2

Click the Import Your Music button.

A dialog box appears, asking you to get the Amazon Music Importer.
3

Click Download Now.

Follow the instructions that appear to install the Amazon Music Importer.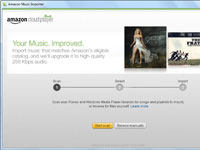 4

After the Amazon Music Importer has been installed, click to authorize your device.

You see the Amazon Cloud Player dialog box.
5

Click the Start Scan button.

If you'd rather pick the items to import yourself, click the Browse Manually button. The following screen lists the number of songs that were found.