Transfer Music from Your PC to Your Fire Tablet
Transfer Music from Your PC to Your Fire Tablet
You can copy music from your computer to your Fire tablet by connecting them to each other using the cable that came with your device. You plug the micro-B end of the cable into your Fire tablet as if you were going to charge it.
Then, disconnect the standard USB end of the cable from the part that plugs into the wall, and plug that end into an available slot on your computer.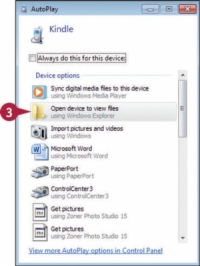 1

Plug one end of your Fire tablet cable into the device. Plug the other end into your computer.

The AutoPlay window appears.
2

Click Open device to view files.

A Windows Explorer window appears.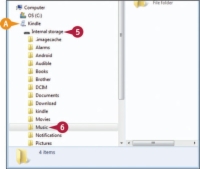 3

Dock the window on the right side of your screen.

Your Kindle device appears as a drive here (A).

Click Internal storage to display the folders on the device (5). Double-click the Music folder (6).
4

Open another instance of Windows Explorer.

Dock the window on the left side of your screen.