The Kindle Fire HD X-Ray Feature
The Kindle Fire HD X-Ray Feature
When Kindle Fire HD arrived, so did the X-Ray feature. This feature works with some books and movies to give you access to facts about what you're reading or watching. This feature is based in part on the IMDb database of movie trivia, which Amazon, coincidentally, owns.

In the case of movies, the X-Ray feature provides information about the cast, and if you tap on a particular cast member, you get details about that person's career and other movies he or she has appeared in.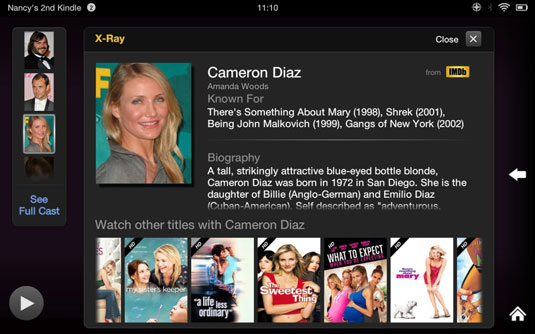 To display X-Ray information, all you have to do is tap the screen when a movie is playing and the cast list appears in the top-left corner. Tap See Full Cast List to see the entire list and then tap on one to see details like those shown.
When you move a video to front and center on the Carousel, in the Customers Also Bought area at the bottom of the home screen there's an X-Ray item on the far left. Tap this to get X-Ray facts about the featured movie.