How to Search for Content on a Page via Kindle Fire
How to Search for Content on a Page via Kindle Fire
Web pages can contain a lot of content, so it's not always easy to find the article or discussion you want to view on a particular topic. Most browsers provide a feature to search for content on a web page, and Silk is no exception.
To search the currently displayed page by using Silk, follow these steps:
1

Tap Menu on the Options bar.

The Options bar runs along the bottom of your Kindle Fire screen. The items offered on the Options bar change, depending on what library or app you're using, but there are often items such as Search to run a search in features such as a content library.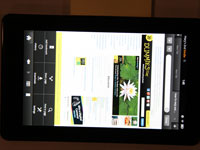 2

On the screen that appears, tap Find in Page.

The onscreen keyboard appears with the Search field active.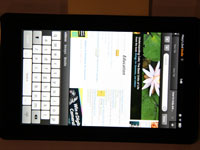 3

Type a search term.

It appears in an orange box hovering above the first instance of the word on the page. Other instances of the word on that page are highlighted by a white bubble outlined in orange.
4

Tap any of these bubbles to view the related content.

The first instance of a word on a page is indicated by an orange box.
5

Tap Done to end the search.

Hopefully, you've found what you're looking for. If not, you might have to broaden your search to include the web.