How to E-Mail Documents from Your Kindle Fire HD
How to E-Mail Documents from Your Kindle Fire HD
When you have a document on your Kindle Fire HD, you can view it and also share it with others as an e-mail attachment. Follow these steps to attach a doc to an e-mail message:
1

Tap the Favorites button on the Home screen.

A list of favorite installed apps appears. If you've removed the E-mail app from your Favorites, look for it by tapping the Apps library.
2

Tap the E-mail app.

The E-mail app opens.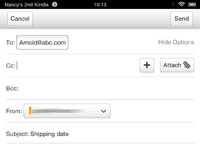 4

Enter a name in the To field, a subject, and a message.

Here is a blank form waiting for you to enter an e-mail address, subject, and message.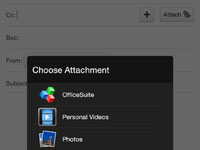 5

Tap Options and then tap the Attach button, shown in the top-right portion of the screen.

In the menu that appears, choose to attach an item from the Photos or Videos apps, or from OfficeSuite. If you choose OfficeSuite, you can then tap on the My Documents folder to access all the documents in your Docs app. You can also choose Internal Storage which will include folders for various libraries, including Music, Books, and Docs.
6

Tap Send.

Your document goes on its way, attached to your e-mail.