How to Create Playlists on Your Kindle Fire HD
How to Create Playlists on Your Kindle Fire HD
Playlists on your Kindle Fire HD allow you to create collections of songs that transcend the boundaries of albums or artists. For example, you might want to create a playlist for a romantic evening, a dance party, or a mellow road trip.
1

Tap Music on the Home screen.

You should see the Playlists tab.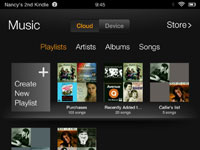 2

Tap the Playlists tab.

You see a Create New Playlist button and two default playlists, Purchases and Recently Added to Cloud. If you have created other playlists, they appear on this screen, as well.
3

Connect to a Wi-Fi network if you aren't already connected.

Creating a playlist requires a Wi-Fi connection because playlists are saved to the Cloud.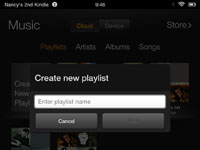 4

Tap Create New Playlist.

In the screen that appears, enter a playlist name and tap Save.

Kindle Fire HD displays a screen containing a Search field and a list of songs stored on the device.
5

Tap the Add Song (+) button to the right of any song to select it.

If you've stored a lot of music and want to find a song without scrolling down the list, enter a song name in the Search field till the list narrows down to display it.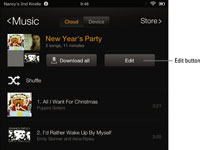 6

Tap Done to save your playlist.

The Playlist is displayed and includes an Edit button that you can tap to edit the playlist contents.

You can play the newly created playlist by simply tapping the Playlist tab, tapping the list you want to play, and then tapping the song you want to play.

When you tap the Edit button on a playlist, you see an Add Songs button and a Done button in the Edit screen. Songs appear with a Delete (–) symbol next to them; tap this symbol to delete a song. Tap the Add Song button to choose more songs to add to the playlist. Finally, tap Done when you're done editing.