How to Buy Music from Your Kindle Fire HD
How to Buy Music from Your Kindle Fire HD
No matter what kind of music you prefer, from hip-hop to Broadway, you're likely to find a great many selections in the Amazon Music Store. All over the Music Store home page, you'll see thumbnails of music selections.
1

Tap the Music button on the Kindle Fire HD Home screen and then tap the Store button.

At the top-right of the Store screen, you see the following categories: Bestsellers, New Releases, and Genres.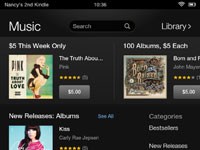 2

Tap one of these tabs to get a list of items in that category.

You can also tap categories such as New Releases and Recommended for You to view music by these criteria.
3

Tap an item.

A screen appears, displaying a list of the songs in the case of an album with Price buttons for both the entire album and each individual song.
4

Tap the arrow button to the left of a song to play a preview of it and tap a Price button.

The button label changes from the price of the item to the word Buy.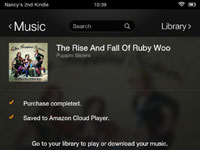 5

Tap the Buy button.

The song or album downloads to your Music library. A confirmation dialog box opens, displaying a Go to Your Library button and a Continue Shopping button.
6

Tap the Go to Your Library button to open the album and display the list of songs.

The album is now stored both in your Music library and the Amazon Cloud Drive; if you tap on a song to play it, it'll also appear with recently accessed content in the Carousel. The first time you download music, you may be asked to choose whether you want content downloaded to your device when you buy it or stored in the Amazon Cloud Drive.

If you tap the Continue Shopping button, you can later find the album in your Music library.