Documents on Your Kindle Fire HD
Documents on Your Kindle Fire HD
One of the items you see across the top of your Kindle Fire HD Home screen is the Docs library. Documents will be stored in the Docs library, to which this button provides access, and if you've viewed them recently, they may also be available on the Carousel. You can also save docs to Favorites on the Home screen or upload docs from your computer to the Amazon Cloud.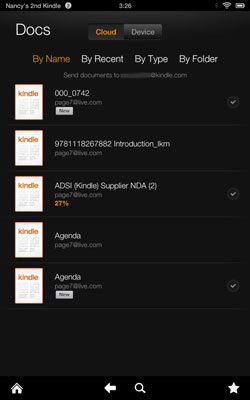 Documents help you communicate information in forms ranging from newsletters to memos and garage sale flyers to meeting agendas.
To get a doc onto your Kindle Fire HD, you can sideload (transfer) it from your PC or Mac by using the Micro USB cable that comes with Kindle Fire HD or e-mailing it to yourself at your Kindle e-mail address (locate this address by opening your Docs library; it's listed below the sort tabs — By Name, By Recent, and so on — near the top of the screen).
Documents come in different formats. Some formats come from the originating software, such as Microsoft Word. Other formats can be opened by a variety of software programs, such as RTF documents that can be opened by any word processor program. In Kindle Fire HD, supported document formats include TXT, Microsoft Word DOCX, HTML, RTF, or PDF, as well as Amazon's Mobi or ASW formats.
Some documents will be converted to one of these Amazon formats automatically.
If you send a document to your Kindle e-mail address, the file appears in your Docs library automatically. You can also get a variety of common graphic file formats onto Kindle Fire HD which will be stored in your Photos app. Kindle Fire HD even supports compressed (Zip) file formats and automatically unzips them when they're transferred to your device via e-mail.

Although you can view these documents, at this point in time, you can't edit them on your Kindle Fire HD without downloading an app such as OfficeSuite Pro.