Create a New Calendar Event on Your Kindle Fire HD
Create a New Calendar Event on Your Kindle Fire HD
In the Kindle Fire HD's new Calendar app, events are brought over from the calendar you sync with, but you can also add new events. With either Day or Week view displayed, follow these steps to add an event:
1

Tap on a date or time in the Week or Day calendar (depending on which view you're displaying) and then tap the New Event button that appears.

This button shows a plus sign (+) in Week view and the phrase +New Event in the Day view.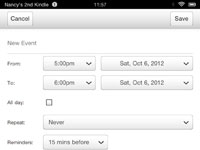 2

The New Event form appears.

Use this form to enter info for a new event. Tap on the words New Event and enter a title for the event.
3

Tap in the From time and date fields and choose a start time and date, and then tap in the To time and date fields and choose an ending time and date.

If the event runs all day, skip the From and To field settings and simply tap the All Day check box.
4

Tap the Repeat field if you want an event to repeat at a regular interval.

This setting is useful for events such as weekly company meetings, monthly get-togethers, or car or house maintenance items that are required on a regular basis, for example.
5

Tap the Reminders field.

You can choose to get an alert on your Kindle Fire HD at a certain interval before the event commences.
6

Tap the plus sign (+) button in the Invite field.

Invite a person you've saved as a contact. If you wish, enter information in the Where and Notes fields.