For Seniors: Set Up a Windows Internet Connection
For Seniors: Set Up a Windows Internet Connection
The first step in going online on your laptop is to set up a connection in Windows so that you can access the Internet. To do that, follow these simple steps.
1

From the Desktop, press Win+I to display the Settings.

Click Control Panel.
2

Click Network and Internet.

In the resulting window, click Network and Sharing Center.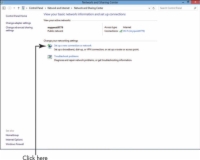 3

In the resulting Network and Sharing Center window, click the Set Up a New Connection or Network link.

A window will open.
4

In the Choose a Connection Option window, click Next to accept the default option of creating a new Internet connection.

If you are already connected to the Internet, a window appears; click Set Up A New Connection Anyway.
5

In the resulting dialog box, click your connection.

These steps follow the selection of Broadband. Other options could include Dial Up.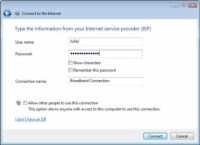 6

In the resulting dialog box, enter your username, password, and connection name (if you want to assign one) and then click Connect.

Windows detects the connection automatically, and the Network and Sharing Center appears with your connection listed.

In many cases, if you have a disc from your ISP, you don't need to follow the preceding steps. Just pop that DVD into your DVD-ROM drive, and in no time, a window appears that gives you the steps to follow to get set up.