For Seniors: E-Mail a Windows Photo
For Seniors: E-Mail a Windows Photo
One way to share the digital photos on your Windows computer is to e-mail them. Photos you want to e-mail are sent as attachments, which the recipient can then save on their computer to view or print.
1

Choose Start→Pictures.

The Pictures library appears in Windows Explorer.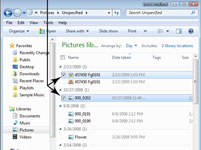 2

In Details view, click the check box to the left of the thumbnail to select the photo

A check mark appears in the check box to indicate that it's selected. To choose multiple photos, click the check boxes next to additional thumbnails.

If the checkboxes do not appears, press Ctrl as you click each photo you want to select.
3

Choose File→Send To→Mail Recipient.

The Attach Files dialog box appears.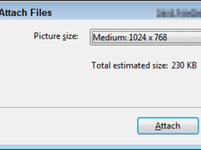 4

Change the photo size by clicking the Picture Size drop-down arrow and choosing another size from the list if you wish.

Because e-mail servers limit the size of attachments, you might encounter problems sending larger files, or others might have trouble receiving them. Graphic files can be rather big, so you might want to adjust the size of any photos you send so they can go through properly. Using a smaller size is especially important if you are sending multiple images.
5

Click Attach.

An e-mail form from your default e-mail appears with your photo attached.
6

Fill out the e-mail form with an addressee, subject, and message (if you wish), and then click Send.

The message is sent with the photos attached.

Sometimes you'll send or receive a file with several photos or other documents compressed together (called a zip file). When you download the attachment to your computer it will appear as a little file with a zipper on it.

Double-click the file to open it, and Windows offers a command to Extract All Files. Click that, and Windows creates a new folder with all the files unzipped so you can work with them.