Basics of iPhone Voicemail
Basics of iPhone Voicemail
For the times when you can't respond to a call on your iPhone, voicemail is a great way for your caller to let you know what she wants so you can respond when it's convenient for you. This article helps you with setting up your voicemail greeting, and listening to and managing voicemail messages.
Tap Phone→Voicemail to display the Voicemail screen.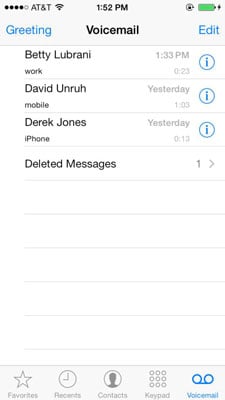 Basics of visual voicemail on your iPhone
Visual voicemail is called that because you actually see your voice messages listed in a nice and neat list just like your e-mail messages, whereas typical "non-visual" voicemail only appears . . . well, nowhere, because only visual voicemail messages can be seen and heard.
If you've never had voicemail, you may be unfamiliar with what it's like to retrieve your voicemail messages the "old-fashioned way" by dialing into your voicemail mailbox. Then pressing buttons on the keypad to skip, fast forward, rewind, and delete those messages as they rattle off one after the other — all of which visual voicemail lets you do with your fingertips.
You can select the messages you want to hear and listen to them in the order you want. Better yet — ask Siri to read your list of visual voicemail messages to you.
Unfortunately, visual voicemail isn't a feature you always find on every iPhone. In some cases, you may have to pay an extra monthly fee for the feature. In other cases, the visual voicemail feature may not be offered by all carriers.
How to record and change your greeting on your iPhone
If this is the first time you're visiting the Voicemail screen, iPhone prompts you to create a password and record your voicemail greeting. Repeating the same steps is how you change your voicemail greeting message whenever you want.
Tap Greeting to display the Voicemail Greeting screen, and then choose one of the following options:
Tap Default if you want callers to hear your cellular provider's generic voicemail message (which says something like "the person you are trying to reach at" — your phone number — "is not available," followed by instructions on how to leave a message, yada yada yada).

Tap Custom if you want to record (or change) a personal greeting message in your own words, and then tap Record to record your greeting; tap Play to listen to your greeting.

Tap Save when you're happy with your choice, or tap Cancel if you've changed your mind and you want to keep the existing greeting.
Go to Settings→Sounds→New Voicemail to designate the sound and vibration pattern you want to hear when you have a new voicemail message.
How to listen to and manage voicemail messages on your iPhone
When you tap a voicemail message in the voicemail list, the selection expands to reveal the playback controls along with a couple other message management buttons.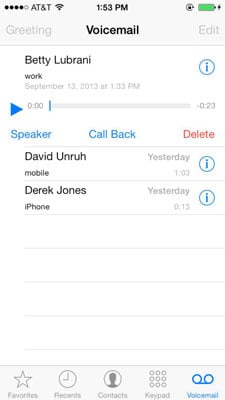 To listen to and control playback of a voicemail message:

Tap the Play button to listen to the message. A Pause button replaces the Play button. You can juggle between the two to play and pause playback.

Drag the playhead in the scrubber bar to move to any location in the voicemail message.

Tap the Speaker button to hear messages out loud through iPhone's speaker (rather than holding iPhone to your ear or listening through headphones).

Tap Call Back to call the person who left you the selected message.

To display more information about the caller, tap the Info button on the right side of the names in the Voicemail list to display the Info screen.

Tap Delete to delete the selected voicemail message. When you delete a voicemail message, the message is removed from the Voicemail list screen, and is saved in the Deleted Messages list, which is automatically created if it isn't already displayed.

Messages you've listened to remain in your voicemail inbox until your cellular carrier deletes those messages. This means that even if you delete a message, it may pop back into the Inbox at a later date. The length of time messages you've listened to remain in your voicemail box varies; check with your carrier.
When viewing the Deleted screen you can:

Tap a voicemail message to open it, and then

Tap Play to listen to the message

Tap Undelete to move the message out of the Deleted Messages list and back to the Voicemail messages list

Tap Clear All to remove all deleted messages from the Deleted Messages list and back to the Voicemail messages screen.
With Visual Voicemail at your service, the idea of ever going back to the old way of dialing in to your voicemail box and tapping buttons to skip through your messages seems like torture.
That said, you can relive the past by pressing and holding the 1 button on the keypad to automatically dial into and begin listening to your voicemail messages, or by typing your own phone number and pressing Call, and then pressing * and entering your password to listen to your voicemail messages.