How to Convert Songs to a Different Encoder Format in iTunes
How to Convert Songs to a Different Encoder Format in iTunes
In iTunes, converting a song from one encoder format to another is useful if you want to use one format for one purpose (such as burning the song to a CD) and a second format for another task (such as playing the song on your iPod). Changing formats is also useful for converting uncompressed songs or podcasts that were created in GarageBand (or a similar audio-editing application) and exported or copied to iTunes.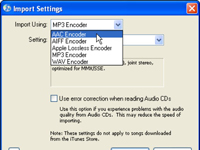 1

Choose iTunes→Preferences→General (Mac) or Edit→Preferences→General (Windows), and then click the Import Settings button.

The Import Settings dialog box appears, allowing you to change the encoding format and its settings.
2

From the Import Using pop-up menu, select the new encoding format you want the song to be in after conversion.

The Setting pop-up menu changes based on the format you choose.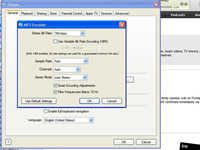 4

Select the settings you want to use for that encoder.

For example, if you're converting songs in the AIFF format to the MP3 format, choose MP3 Encoder from the Import Using pop-up menu and then select the settings that you want in the MP3 Encoder dialog that appears.
5

Click OK in each dialog box to close it.

iTunes accepts the settings for your chosen format.