How to Set Up Cortana on Your Windows 10 Laptop
How to Set Up Cortana on Your Windows 10 Laptop
When you first open Cortana on your laptop, you will be asked questions used to set up Cortana such as what you want Cortana to call you (your nickname). You can access Cortana's settings at a later date if you want to change how Cortana is working.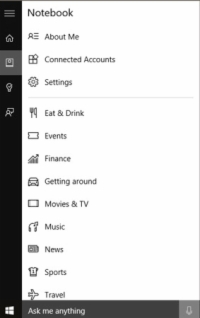 1

Click in Cortana's search box to open Cortana.

When the panel appears, click the Notebook button and, in the resulting Notebook panel, click About Me.
2

In the resulting About Me panel, you can change your name or your favorite places.

Click Edit Favorites and then in the Places panel click the Add button (the + shaped button in the lower-right corner) to add a Favorite.
3

In the resulting panel, begin to type a location, such as your workplace, in the Add a Favorite text box.

Click to select the correct location from the search results.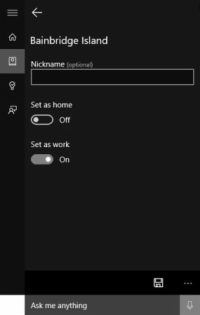 4

In the resulting panel, click the Set as Work setting to On.

Click the Save button at the lower right.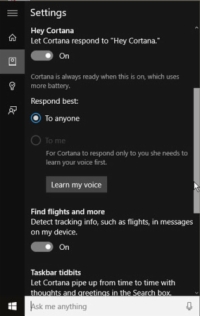 5

Click the Notebook button again and then click Settings. The Settings options open.

Settings allows you to control whether Cortana responds to the spoken phrase "Hey Cortana", responds to anyone's voice or just yours, finds tracking information in your email and other messages, or enables Taskbar Tidbits (occasional tidbits of information that appear in Cortana's search box).
6

If the Let Cortana Respond to "Hey Cortana" switch is set to Off, click to turn it On. If you are the only one who uses the laptop, click the Learn My Voice button, and then repeat the six phrases that Cortana supplies.

To turn Cortana off while keeping any contents or settings in the Notebook, click the first On/Off setting labelled Cortana Can Give You Suggestions, Ideas, Reminders, Alerts, and More.

After you open the Cortana panel, you can close it by clicking the Escape button on your keyboard.