How to Format Text in Windows XP
How to Format Text in Windows XP
When you format text in Windows XP, you can change the font type, style, size, effects, and color. You can change the look of any document by making some text a different color, bold, and bigger or whatever your heart desires, and you can make these font changes by accessing the Font dialog box.
1

Select the text that you want to format.

You can select text by clicking and dragging. Many applications offer alternative ways to select text, as well. For example, Word offers a selection bar feature along the left edge of the document. Place your cursor along the left side of the page and click to select an entire line at once. You can also double-click in the selection bar to select an entire paragraph, or triple-click to select all the text in the document.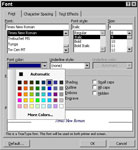 3

Adjust the settings.

Select a font in the Font list box to apply a certain typeface style to the selected text, such as Arial or Times Roman. Select a style in the Font Style list box to apply effects or combinations of effects, such as Bold Italic. Select a size in the Size list box to apply a size to selected text, or type a number in the Size text box. Select various check boxes in the Effects area, such as Underline, Shadow, or Emboss. Note that not all applications allow all of these effects. Click the arrow on the Font Color drop-down list to display a palette of colors. Select a color to apply it to the text.
4

When you finish making settings, click OK.

Click OK applies the settings.