How to Access Your Windows 8 Files with SkyDrive
How to Access Your Windows 8 Files with SkyDrive
You can access your Windows 8 files from anywhere with Microsoft's SkyDrive app. Basically, it's your own private storage space on the Internet where you can dump your files and then retrieve them whenever you find an Internet connection. Romantic engineers refer to Internet-stashed files as cloud storage.
To add, view, or download files you've stored on SkyDrive from the Start screen's SkyDrive app, or to add your own files, follow these steps: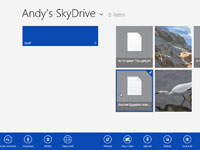 1

From the Start screen, open the SkyDrive app.

When opened, SkyDrive lists your stored folders along the left edge and your files along the right.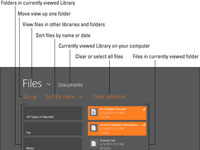 2

To copy files from your computer to SkyDrive, choose Upload and locate the desired files on your computer.

To add files, right-click a blank part of the SkyDrive program; when the app's menu appears along the screen's bottom edge, choose Upload (shown in the margin). The Start screen's File Picker appears, ready for you to choose the files you'd like to store in the clouds.

Click a folder to see its contents; to move to other folders, click the Go Up button along the top. Click the Go Up button enough times, and you end up looking at four top-level folders: Libraries, Homegroups, your user account's folders, and Computer. From there, you can click back down to your desired folder.

When you spot the folder containing the files you want, click it to open it and see its files.
3

Choose the files you'd like to upload to SkyDrive.

Click the files you'd like to upload; if you click one by mistake, click it again to remove it from the upload list. Each time you click a file, SkyDrive adds the file to its upload list, shown along the app's bottom edge.

Jump to another folder and click more files; SkyDrive adds those file to the list along the bottom, as well.
4

Click the Add to SkyDrive button.

SkyDrive begins uploading your selected files to the sky. Documents float up there pretty quickly, but digital music and photos can take a lot of time.

For more information about Windows 8 and its features, explore Windows 8 For Dummies, available online.