Mail, Contacts & Calendars Preferences on Your MacBook
Mail, Contacts & Calendars Preferences on Your MacBook
The Mail, Contacts & Calendars pane of your MacBook's Systems Preferences window is a central location for adding, editing, and configuring your Internet, iCloud, and local network accounts for e-mail, Address Book contacts, and calendar information.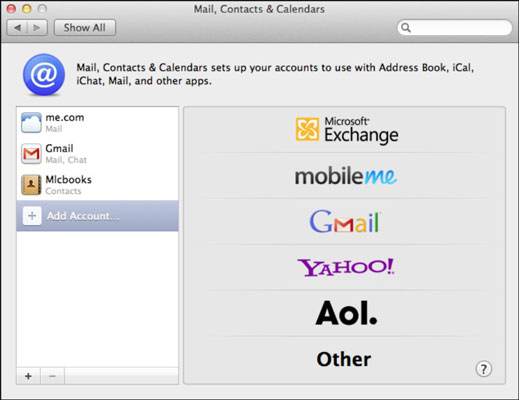 Note that accounts appear automatically in this pane when you create them in many applications. For example, creating a mail account within Apple Mail also automatically adds that account to the list in the Mail, Contacts & Calendars pane.
To add a new account, click the New Account button and then click the account type in the list at the right side of the pane. System Preferences displays a custom assistant that will lead you through the setup process for that specific account.
After you've configured an account, it appears in the list at the left. Click an account in the list and you can specify whether that account will be used with Apple Mail, iCal, FaceTime, and iChat. You can also change account information by clicking in the desired field and typing the new information, or delete the selected account entirely by clicking the Delete Account button.