Have you upgraded to Catalina from the previous version of macOS, Mojave? If so, you've opened the door to several new features. (And if you're not rubbing your hands together with gleeful anticipation, you should be.) Here, you'll find descriptions of the new features that ship with the latest version of macOS.

Note that some other new Catalina features are available, such as the new Day, Month, and Year display options for Photos, for example. The new features you find here, however, are the real standouts in macOS Catalina.

Let the fun begin!
Catalina's protected system volume
For the first time in the long and storied history of our favorite operating system, macOS (and Mac OS X before that, and just plain OS X before that), the critical system files that make up Catalina are now housed in a separate volume from your applications, documents, and data.

This separate system volume is marked as read-only, so you can't change it manually (even using your Administrator account). Neither, of course, can viruses or malicious applications written by hackers, which is the entire point. This new, protected system volume effectively secures Catalina from unwelcome interference and eliminates accidental damage that MacBook owners could inflict upon their own laptops!

It's important to note that the new Catalina system volume is limited only to operating system files. Because your applications and documents are kept in a separate volume on your internal drive, they're still subject to attacks from viruses and malicious applications. Therefore, it's strongly recommended that you still install antivirus software on your MacBook!

Also, your applications and documents can still be accidentally erased or overwritten as before, so it's still vitally important for you to back up your important documents and data (preferably with Time Machine). In other words, your stuff is still vulnerable, and you still need to safeguard your system.

Catalina's protected system volume won't slow the operation of your MacBook (and requires no configuration or maintenance on your part), so if you like, you can promptly forget about it! (Don't forget to enjoy that feeling of security from time to time, though.)
Porting iOS applications to Catalina
The arrival of Catalina makes it easier for software developers to port their iPad and iPhone applications to macOS. In other words, it now takes less time and effort to create a version of an iPad or iPhone app that will run on your MacBook.

Naturally, this situation results in far more applications in the App Store that will be available for your MacBook in the future (A Very Good Thing indeed). Apple has also enhanced its support for third-party cloud storage providers such as Dropbox and OneDrive, so you'll likely see more configuration and display options for your third-party online storage within Catalina.
Catalina brings the arrival of Music, TV, and Podcasts
It's downright hard for macOS old-timers to believe, but the arrival of Catalina officially marks the retirement of the iTunes application! Naturally, you won't lose a single song, movie, TV show, or podcast subscription that you've collected in your iTunes libraries over the years.

iTunes is simply being replaced by three separate applications: Music, TV, and Podcasts. These three applications have been staples of iOS devices such as the iPhone and iPad for some time now. (Consider this move to be part of a continuing effort on Apple's part to bring successful elements of iOS to the world of Mac computers.)

Instead of taking an integrated approach to playing music and video or listening to podcasts, Catalina separates and simplifies the three applications, with each application concentrating on one type of media. (Note, however that Apple's online media shopping center is still called the iTunes Store. Go figure.)
Catalina has a new home for Apple ID
Looking for all the specifics on your Apple ID account? In Catalina, your Apple ID account receives its own pane in System Preferences. The Apple ID pane is the clearinghouse for displaying and changing your account information, and you'll find all the options for iCloud features here as well. You can manage your iCloud use, as well as purchase additional iCloud storage if you need it. Convenience is the key!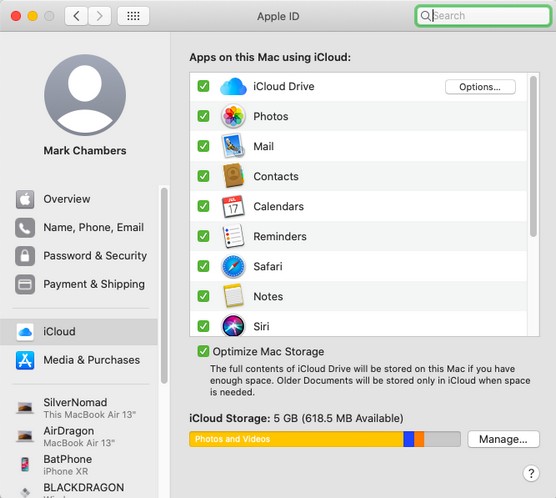 The new Apple ID pane within System Preferences.
Catalina extends your MacBook with Sidecar
Do you own a late-model iPad running iOS version 13? If so, rejoice! Catalina introduces a new feature called Sidecar, which allows your iPad to act as a secondary display for your MacBook. You can use Sidecar to extend your Catalina Desktop (giving you more screen real estate for applications and Finder windows), or you can use the Apple Pencil input device to turn your iPad into a drawing tablet.

To turn Sidecar on, click the AirPlay icon on the Finder window's menu bar, and choose your compatible iPad from the menu that appears. If you decide on a wired connection, you'll need a USB-C cable that can connect to your iPad. As long as your iPad is within 30 feet of your MacBook, however, you can connect wirelessly by using Bluetooth. Sidecar can be configured from a new pane within System Preferences.

When you've made the connection between the two devices, Catalina re-creates the MacBook Pro Touch Bar display at the bottom of the iPad — a genuine boon to owners of older MacBook and MacBook Air models that don't have a Touch Bar.
Catalina tells you about your Screen Time
Another new feature inherited from iOS, Catalina's Screen Time application makes it easy to monitor how you use your MacBook.

If you're interested in controlling access to applications or setting limits on the time you spend surfing, gaming, or chatting, Screen Time is the solution. (Imagine being able to schedule a consistent downtime period every day so that you no longer end up working until the wee hours of the morning.)

You can also control your children's access to Catalina's applications and features, making Screen Time a powerful parenting tool. The Family Sharing feature has also been moved to Screen Time, allowing you to configure your family's iOS devices as well.

Screen Time is configured from a new pane in System Preferences.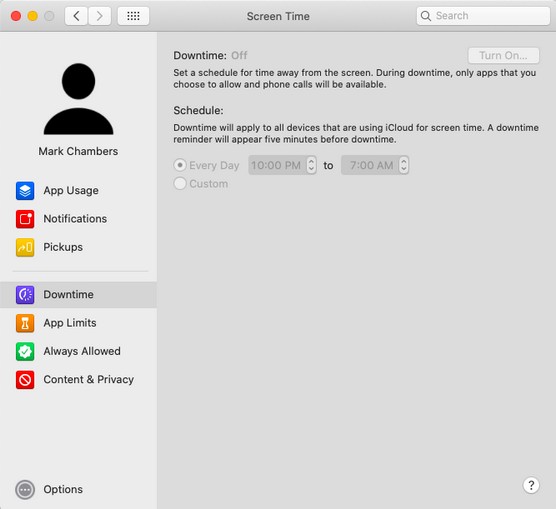 With Screen Time, you can monitor how your MacBook is used.
Catalina makes unsubscribing easy
It may not be a major feature, but it's Catalina's answer to some MacBook user prayers: Apple has added an Unsubscribe feature to Mail! If you're like some other diehard Mac users, you often find yourself added to a company's email mailing list — without your permission — and desperately desire to be left alone.

In the past, you'd have to search the list messages for an Unsubscribe link, or even contact the source of the list directly to demand that you be removed. Within Catalina, if Mail detects that a message is from a mailing list, it displays an Unsubscribe button in the message header, allowing you to unsubscribe from the mailing list quickly and conveniently. Huzzah!
About This Article
This article is from the book:
This article can be found in the category: