How to E-Mail Photos with iPhoto from Your MacBook
How to E-Mail Photos with iPhoto from Your MacBook
iPhoto can help you send your images through e-mail from your MacBook by automating the process. The application can prepare your image and embed it automatically in a new message.
To send an image through e-mail, select it and click the Share button in the toolbar, and then click the Email menu item. The layout shown here appears, allowing you to choose a theme for your message that is compatible with many e-mail applications (complete with a background image and matching font selection).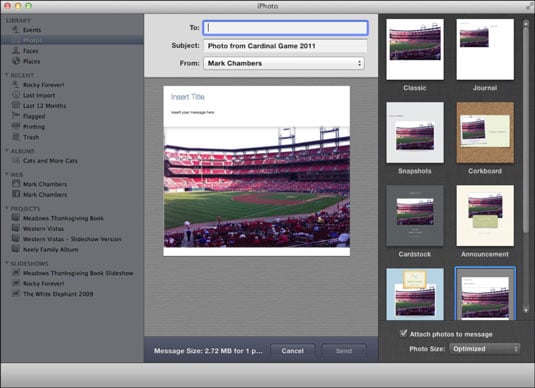 You can also specify the size of the images from the Photo Size pop-up menu, which can save considerable downloading time for those recipients who are still using a dial-up connection. To add the images as attachments to the message, click the Attach Photos to Message check box to enable it.
Keep in mind that most ISP (Internet service provider) e-mail servers don't accept an e-mail message that's more than 3MB or 4MB, so watch that Size display at the bottom of the window. (In fact, the encoding necessary to send images as attachments can double the size of each image!).
If you're trying to send a number of images and the size goes over 3MB, you might have to click the Photo Size pop-up menu and choose a smaller size (reducing the image resolution) to get them all in a single message.
When you're satisfied with the total file size and you're ready to create your message, click the Send button. iPhoto automatically creates a new message containing the images, ready for you to click Send!