FireWire and Wi-Fi Network Settings on Your MacBook
FireWire and Wi-Fi Network Settings on Your MacBook
Access the FireWire and Wi-Fi network settings from the Network pane on your MacBook. The FireWire and AirPort settings on the Advanced sheet are the same as those for Ethernet.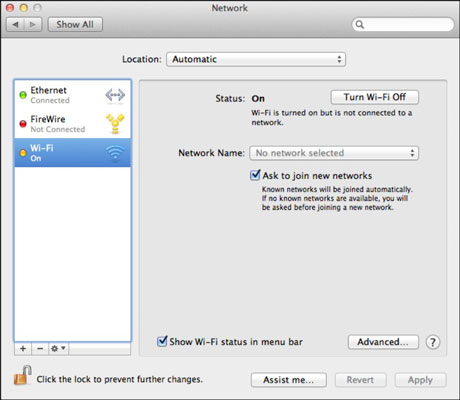 However, four settings are unique on the Wi-Fi status pane:
Network Name: Lion handles wireless connections automatically in most cases; if possible, it connects to the last wireless network you joined. If that network isn't available or there are others to choose from, Lion displays a dialog asking you which available network you want to join.

If you want to join only one or more preferred networks (for security or convenience reasons), click the Advanced button and click the Add button (which bears a plus sign) to enter the wireless network name and password.

Ask to Join New Networks: Lion will always automatically join known networks in range. A known network is a network you've connected to in the past. This check box, however, controls what happens if no networks in range are known; if the check is disabled, you must click the Wi-Fi icon in the Finder menu bar and select a network to use.

If the check box is enabled, Lion automatically prompts you for confirmation before attempting to join a new network.

Turn Wi-Fi Off: Okay, here's the honest truth — wireless networking is a significant drain on a laptop battery! If you're sure you're not going to use your MacBook's wireless network hardware in the near future, you can click this button to activate and deactivate your laptop's network hardware. (Alternatively, just click the Wi-Fi icon in the Finder Menu Bar and choose Turn Wi-Fi Off.)

Turn off Wi-Fi if you don't need it, and your laptop will thank you. (Just turn it back on using this same button when you need it or use the Wi-Fi status menu in the Finder menu bar.)

Show Wi-Fi Status in Menu Bar: Hey, speaking of the AirPort Status Menu in the Finder Menu Bar . . . select this check box to display it! You can immediately see the relative signal strength of your connection, switch among available wireless networks, and turn off your AirPort hardware to conserve your battery power (without digging deeply into System Preferences).