Violin & Fiddle
Are you a violinist or a fiddler? It's all in your attitude and approach, and we can guide you through getting started, learning new techniques, and finding your style.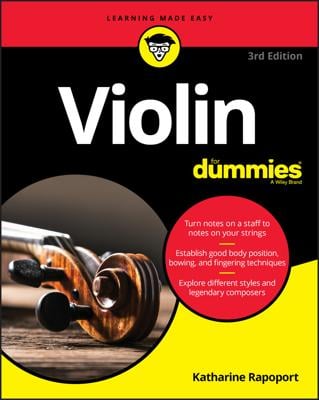 Violin & Fiddle
Violin For Dummies
Take a (violin) bow and let your inner musician shine! You don't have to be a genius to start fiddling around! Violin For Dummies helps budding violinists of all ages begin to play. If you've never read a note of music, this book will show you how to turn those little black dots into beautiful notes. Start slow as you learn how to hold the instrument, use the bow, finger notes, and play in tune. Watch yourself blossom into a musician with tips on technique and style. When you're ready to go further, this book will help you find the people and resources that can help you get just a little closer to virtuoso! Your own private lessons are right inside this book, with the included online video and audio instruction, plus recordings that will help you develop your "ear." This book takes the guesswork out of learning an instrument, so you'll be ready to join the band when the time comes! Choose a violin and learn the basics of holding the instrument and playing notes Start reading music with this fast-and-easy introduction to musical notation Improve your musicianship and start to play in groups Explore different music styles and legendary violin composers The violin is a beautiful thing—adding melody everywhere from orchestras to folk and pop tunes. With Violin For Dummies, you can make the music your own, even if you're a total music beginner.
Explore Book
Buy On Amazon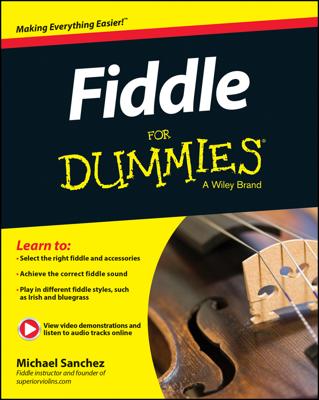 Violin & Fiddle
Fiddle For Dummies
Learn to play the fiddle? Easy. Tackling a new instrument can be intimidating, but with this easy-to-use guide, you'll have no trouble at all! From selecting, tuning, and caring for your fiddle to mastering various music styles, Fiddle For Dummies walks you step-by-step through everything you need to start playing the fiddle like a pro. You'll discover how to hold a fiddle, master fundamental techniques, and take your skills to the next level. This title also features companion audio tracks and instructional video clips hosted online at Dummies.com to help further enhance your skills. The fiddle is a popular instrument across many continents, and is a favorite for many because it is small and portable. Playing the fiddle can expose you to a range of musical styles from all over the world, such as Irish, Scottish, Celtic/Cape Breton, country, folk, bluegrass, and more. Plus, if you're already a violin player, you'll impress yourself and fellow musicians as you unlock your instrument to open up a whole new world of sounds. Learn fiddle techniques and fundamentals Select, tune, and care for your fiddle Join the folk instrument movement and master the fiddle Play fiddle music from all over the world Whether you're a complete beginner or a violin player looking to branch out and try something new, Fiddle For Dummies will have you fit as a fiddle in no time.
Explore Book
Buy On Amazon