Series 7 Exam
Also known as the General Securities Representative Exam. We've got dozens of bite-sized refresher articles to help you get ready to swap securities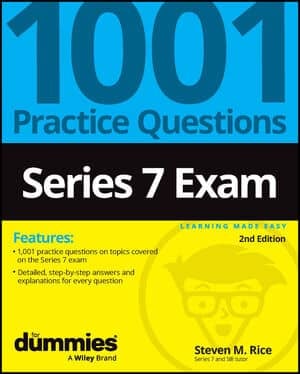 Series 7 Exam
Series 7 Exam: 1001 Practice Questions For Dummies
Prep for the Series 7 like a seasoned pro with this huge collection of practice questions and answer explanations Heads up, prospective Series 7 takers! Word is out that this popular exam's latest update made it a lot tougher. But don't sweat it. With the newly revised second edition of Series 7: 1001 Practice Questions For Dummies you'll get all the practice you need to maximize your chances of acing the test your first time around. This book shows you where your knowledge is strong and where you need work, letting you focus your efforts where they will make the most difference. Here's what's included: 1001 realistic and challenging practice questions with detailed answer explanations Coverage of every domain and competency tested on the exam New questions comprehensively aligned with the latest version of the Series 7 examA must-have study aid perfect for anyone ready to take their next step on the road to a new career in securities trading, Series 7: 1001 Practice Questions For Dummies will help you banish test anxiety, improve your odds on the exam, and give you all the tools you need to succeed.
Explore Book
Buy On Amazon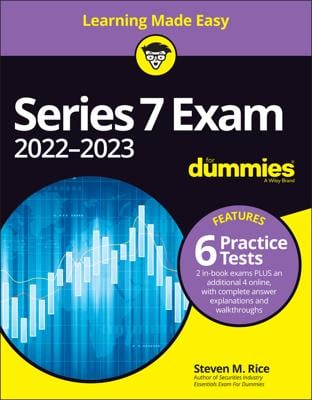 Series 7 Exam
Series 7 Exam 2022-2023 For Dummies with Online Practice Tests
The study tool you need for the Series 7 Exam Your gateway to the world of finance is the Series 7 Exam: pass it and you're in for a rewarding career as a stockbroker. You don't have to study for this important exam alone—Series 7 Exam For Dummies gives you all the tips, tricks, and practice you need to obtain your required certification. This book smartly balances three areas of study in one convenient package: the topics on the exam, how to prepare for test day and to take the exam, and practice tests. Find in this book: How to sign up for the test, and tips to get through test day Different study strategies The basics of security investments, such as equity securities and municipal bonds More advanced security topics, such as margin accounts and packaged securities How to conduct market research, such as portfolio and securities analysis Legal concerns: IRS, rules, and regulations Chapter exams and online practice quizzes With Series 7 Exam For Dummies as your study guide, you'll be ready to tackle the 125 exam questions. Whether it's a question about the underwriting process, investment companies, or income-tax implications, you'll find all the information to prepare in this resourceful book. Your stockbroker career is just one certification away—get your copy of Series 7 Exam For Dummies (with included online practice tests) to get started on your career you've worked hard for.
Explore Book
Buy On Amazon