Pit Bulls
These tenacious pups are nothing if not unique. Separate fact from fiction and learn to care for this oft-misunderstood breed.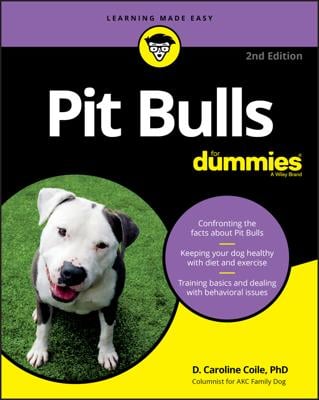 Pit Bulls
Pit Bulls For Dummies
The good, the bad, and the snugly about your new best friend No breed of dog is the subject of more extreme feelings—both good and bad—than the Pit Bull. Man-eating monster or heroic nanny-dog: What's the real story? Are Pit Bulls the very best breed for kids? (Not always.) Is it all in how you raise them? (Not totally). Will they lick you to death? (Absolutely!) In the fully updated 2nd Edition of Pit Bulls For Dummies, Dr. Caroline Coile—Dog Writer's Association of America Hall of Famer and former Pit Bull owner—sniffs out the reality behind the myth, rips through the dogma that both vilifies and sanctifies this unique family of dogs, helps you find the best source for your new family member, and shows you the latest and greatest ways to raise, train, and live with your own partying Pit Bull and reap the rewards of happy canine companionship for years to come. Understand your Pit Bull's origins and characteristics Decide if a Pit Bull is for you Evaluate Pit Bull sources, whether adopting, rescuing, or buying Care for all ages, from puppies to older dogs Deal with bad behavior Socialize your new dog Follow the advice in this book and help show the world that well-brought-up Pit Bulls are some of the most charming, companionable, and fun-to-be-around dogs out there—enjoy!
Explore Book
Buy On Amazon