Immunity
Pump up your immune system, dial down the allergies, and feel at your best every day.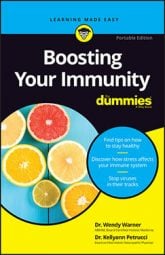 Immunity
Boosting Your Immunity For Dummies, Portable Edition
A strong immune system protects you the from colds, flus and other infections we're regularly exposed to in the world, so why not give it a healthy boost? Learn what makes our immune systems thrive, and how to use common sense strategies — such as superfoods, detoxification, better sleep, and stress reduction — to minimize illness and maximize your well-being.
Explore Book
Buy On Amazon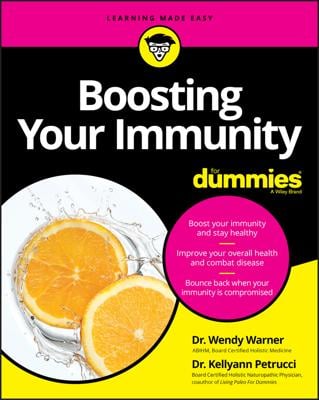 Immunity
Boosting Your Immunity For Dummies
Boost your body's defenses to fight-off disease and live stronger and longer Every single day our bodies are under attack from nasty little organisms which range from the pesky to the frighteningly serious. So, what's the best way to fight back? Thankfully nature has provided us with a powerful interior armor-plating—and Boosting Your Immunity For Dummies shows you how to keep that crucial biological gift in tip-top condition. Brought to you by bestselling author Kellyann Petrucci, MS, ND, a board-certified naturopathic physician, and Wendy Warner, a board certified holistic physician,—Boosting Your Immunity For Dummies sets out the sound ways we can supercharge our immune systems to prevent illnesses and diseases such as arthritis, autoimmune conditions, pneumonia, cancer, and the flu. Using a simple program of diet, exercise, stress-reduction, and nutritional supplements, we can keep our internal defenses humming happily along—and get generally healthier in the process! The best nutritional strategies to avoid cold and flu 40+ recipes that show healthy eating can also be delish Cutting-edge research on immune-boosting health and diet Lists and tips for keeping a low-cost, healthy pantry Through diet, exercise, stress reduction, nutritional supplements, and the role of water, sunlight, and oxygen, you can harness the power of your immune system and drastically improve your immunity to disease. P.S. If you think this book seems familiar, you're probably right. The Dummies team updated the cover and design to give the book a fresh feel, but the content is the same as the previous release of Boosting Your Immunity For Dummies (9781118402009 find this on the copyright page). The book you see here shouldn't be considered a new or updated product. But if you're in the mood to learn something new, check out some of our other books. We're always writing about new topics!
Explore Book
Buy On Amazon