GRE
Grad school, here you come. Prep in style with test info, multiple-choice strategies, and hints for maximizing your score.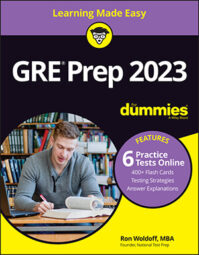 GRE
GRE Prep 2023 For Dummies with Online Practice
Published 05-30-2022
GRE Prep 2023 For Dummies has everything you need to get ready and do great on the GRE. You'll find practice questions for vocabulary and mathematics, detailed explanations, updated strategies for improving your score and testing well, and online practice tests.
Explore Book
GRE
GRE
Published 05-26-2015
The GRE General Test is accepted at more than 3,200 graduate and business schools as well as departments and divisions within these schools. 1,001 GRE Practice Questions For Dummies will focus on question types from the Verbal Reasoning and Quantitative Reasoning sections of the GRE and will provide prompts and guidance for improving skills on the Analytical Writing section of the exam. Every practice problem will include answers and explanations. Every step of every solution will be shown, and the answer explanations will include detailed narratives to walk readers through solving each practice problem. Beyond the Book: With the book purchase, readers will also get access to practice problems online. This content features: 500 practice questions On-the-go access from smart phones, computers, and tablets Customizable practice sets for self-directed study Practice questions categorized as easy, medium, or hard One-year subscription with book purchase.
Explore Book