Golden Retrievers
Great with kids and other dogs, golden retrievers are the perfect companion animal for almost anyone.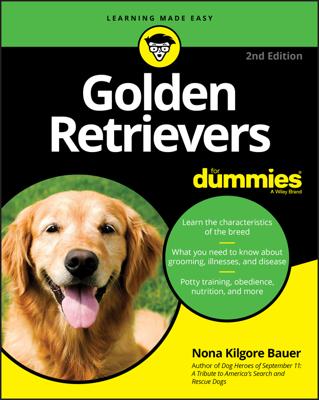 Golden Retrievers
Golden Retrievers For Dummies
Get the most out of this Golden breed Man's best friend doesn't get any better than the Golden Retriever. Originally bred as hunting companions who retrieved birds and hares and delivered them to hand, the breed today is much more than "just a hunting dog." Highly intelligent and eager-to-please, Golden Retrievers have a history as working dogs that makes them easy to train. Attired in a luxurious fur coat and blessed with a gentle and affectionate nature, they are the third most popular breed in the United States and a favorite for families with young children. Written in a friendly style by Retriever-owner Nona Kilgore Bauer, this second edition of Golden Retrievers For Dummies puts everything you need to know about your furry friend right in your hand. You'll learn how to care for a Golden Retriever from puppyhood to its stately golden years and how to communicate with them better. You'll also learn about grooming and training, as well as how to deal with common ailments and behaviors. With this guide, you'll learn how to: Select the best puppy for you Adopt an older dog Dog-proof your home Train your Golden Retriever right Whatever you're looking for from your Golden Retriever, this book will help you get there, making for happiness all around—and many golden years ahead!
Explore Book
Buy On Amazon