General Home Improvement & Appliances
Recoating your asphalt driveway? Trying to fix an old fireplace damper? Check out our useful articles on how to keep your home good-as-new.
General Home Improvement & Appliances
Books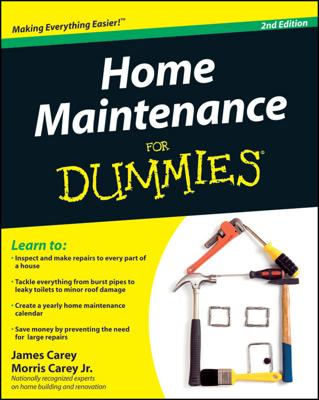 General Home Improvement & Appliances
Home Maintenance For Dummies
A hands-on, step-by-step guide to properly maintaining your home Your home requires regular maintenance to operate safely and efficiently. The expert advice in this second edition of Home Maintenance For Dummies can help you save literally thousands of dollars each year by showing you how to perform home maintenance yourself! This new edition provides the latest tips on how to tune up your home and make repairs to every room of the house, from basement to attic. By combining step-by-step instructions and expert information, this practical guide gives you the skills to tackle everything from furnace tune-ups to leaky roofs. You'll also learn how to conduct routine inspections, keep major appliances running efficiently, and increase energy efficiency. Shows how to keep your home in tip-top shape, preserve its value, and avoid costly repairs Covers all rooms of the house, in addition to the roof, foundation, and exterior Explains how to keep all home systems and major appliances running smoothly Includes a seasonal maintenance schedule Provides the latest green maintenance options to help lower your utility bills James Carey and Morris Carey have a radio show, a newspaper column, and a Web site, all called On the House, and appear regularly on CBS News Saturday Morning. They are also the authors of Home Remodeling For Dummies If you've always wanted to tackle home repairs like a pro, Home Maintenance For Dummies, 2nd Edition is your ideal resource!
Explore Book
Buy On Amazon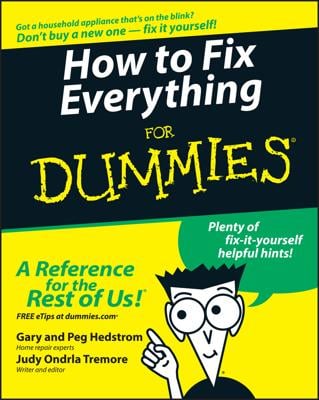 General Home Improvement & Appliances
How to Fix Everything For Dummies
If I had a hammer: The fun and easy way for do-it-yourselfers to repair home appliances and furniture For anyone who's ever been frustrated by a repair shop rip-off or just wanted to join thousands of others in the DIY craze, How to Fix Everything For Dummies is a no-nonsense guide showing you how to troubleshoot and fix a wide range of furniture (with wobbly legs, for example) and household appliances -- vacuum cleaners, refrigerators, washers, dryers, dishwashers, garbage disposals, toasters, blenders, radios, televisions, and even computers and printers. Packed with step-by-step illustrations and easy-to-follow instructions, it's a must-have money-saver for the half of all homeowners who undertake Do-It-Yourself (DIY) home projects. This hands-on, DIY manual shows you not only how to fix faulty appliances but also tend to all those irritating repairs that cost more to have someone else fix than the item is worth. How to Fix Everything For Dummies is for you if you Are a homeowner or an apartment dweller Want to fix things around the house but aren't sure where to start Have some experience but need guidance on tackling more and larger repairs May be frustrated about throwing things away because you don't know where to go to repair them Don't want to pay for service calls when the problem is minor Featuring clear, concise directions, How to Fix Everything For Dummies also covers the proper tools and materials to get the job done correctly without breaking the bank and important safety measures to take so you don't hurt yourself. You'll learn how to Fix creaky stairs Patch basement floors Restore damaged carpets Correct drywall and repair plaster walls Fix door and cabinet hardware problems Rewire fixtures Get doorbells to work Fix garage door openers Unclog drains and fix leaky pipes Mend wooden fences and decks Repair minor cracks in the concrete driveway or pool And a whole lot more Additionally, this friendly guide is written in plain English and includes a list of home repairs you should not take on yourself but should leave for the professionals and tips on how to hire one. Grab your copy of How to Fix Everything For Dummies, grab your screwdriver and wrench, and get to work!
Explore Book
Buy On Amazon