It's a good idea to be prepared for things going wrong in your home, whether it's something relatively simple that you can fix yourself, or a more complex problem requiring a qualified professional.

Following is advice for both situations. First, we list some non-tool items you'll want to have around for DIY home repair. We also suggest questions you should ask before hiring a professional to make a repair or renovation in your home.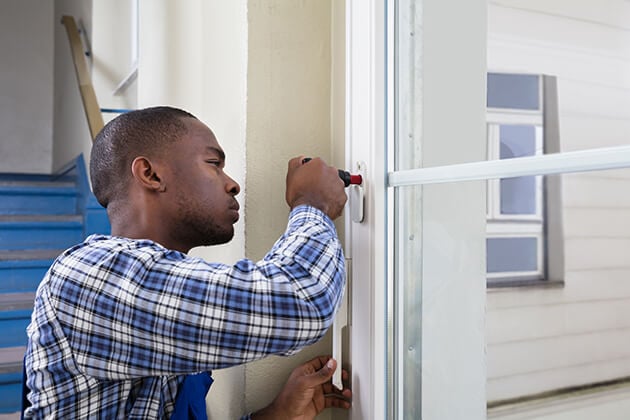 © Andrey Popov / Shutterstock.com
Non-tools you need for home repairs
Sometimes, home repair jobs call for everyday items and not just tools. This shopping list has non-tool items you should have around for home repairs:
All-purpose utility knife: It has many uses and it's handy when you're doing a fix-it project.

Bin or Klitz sealer: These are the only two primer/sealers that seal water-stained drywall or cover crayon, ink, and felt-pen marks on walls. Nothing else can match them.

Bleach: Not just for laundry, it works great on grout, mildew, stains, and minor drain blockages. Never mix it with ammonia; the two make a toxic gas that's dangerous to inhale.

Brushes: Get soft-bristle brushes to remove dust and small particles.

Clamps: Ratchet straps, a variety of plastic or metal clip-type clamps, and one or two C-clamps of different sizes come in handy for a variety of fix-it projects. Ratchet straps are also great for securing mattresses on the roof of a car and maneuvering large appliances.

Duct tape: Okay, you can laugh, but once you have it around you'll find ingenious ways to use it — and probably never for wrapping air ducts!

Dum Dum toy putty: This putty never hardens and although developed for puttying windows, it's great for keeping pictures and mirrors level and temporarily securing photos and posters. It doesn't damage paint or paper.

Masking tape: Don't settle for one width; you'll inevitably wish you had the other as well.

Old toothbrushes: Use them to clean the gaskets sealing refrigerators, freezers, and ovens, scour around faucets, and get paint and dirt out of crevices.

Plunger: Use it to unblock drains and toilets.

Putty knife: Use this non-tool tool for fix-its, scraping wallpaper, stripping furniture, getting under surfaces. You'll use it a lot.

Rulers and yardsticks: These are an absolute necessity if you want to cut wood, drywall, or anything else. If you splurge just a little, you can get metal rulers that won't snap or break.

Sandpaper: Buy an assortment from very fine grit to coarse grit and you'll have them available when you're working on a project.

Single-edge razor blades: One small package will last a long time because they're reusable, especially after scraping paint splatters off glass.

Steel wool: You don't need a lot, just fine, medium, and coarse grades.

Stud finder: Stop guessing where to drive a nail into the wall. It locates nails in your drywall, and thus, the stud.

Double-sided tape: Also called carpet tape, this holds down throw rugs and, temporarily, loose carpeting and vinyl. You'll find other uses as well.

WD-40: Use one or two drops on hinges, locks, and anything else needing lubrication.

White vinegar: Use it on rugs and tablecloths when someone spills red wine.
Questions for a contractor or home repair specialist
When getting bids from a professional for a home repair project, make sure you know exactly what the job entails. Research your contractor, like checking with the Better Business Bureau to see if any complaints are filed, before you sign a contract. Before hiring anyone for your home repairs, make sure you ask these questions:
Do you have a list of referrals? Ask for names and phone numbers of people that had similar work that the contractor or specialist completed.

How long have you been in business? Sometimes contractors want to retire and sell an established business with a good reputation, but there's no guarantee that the new owner will know as much or be as good.

Can I see your certificates of insurance? You want to know that the contractor is licensed and bonded, and that they carry workers compensation insurance.

Who will do the actual work, the contractor, an employee, or an independent contractor retained by the company? If the contractor outsources the job, that might entail potential risk on your part if that person is injured.

Can I have a detailed contract? It should describe the project in detail and what materials and products will be used, as well as labor costs, and the contractor's name, address, phone number, and license numbers with the city and state.

Can I buy the materials myself and have them delivered to my home? You might save money that way.

How long will the project take? Get a specific date for starting and ending the project.

Who is responsible for cleaning up after the project is completed? If it's the contractor, make sure you have it in writing.

Is a building permit needed for the work? Make sure the contractor will get it.

Can I have a warranty on work and materials? Is it a full warranty on repair or replacement of the product and for how long — 90 days or a year?

Can I establish a payment schedule for work that will take some time to complete? Never agree to pay all costs up front because if you're dissatisfied with the work, you'll never be able to get the contractor back to your home.
About This Article
This article is from the book:
This article can be found in the category:
This article is part of the collection(s):