Food Prep Tools
It's not (just) what you cook, it's how you cook it. Choose the tools you need to prepare delicious dishes.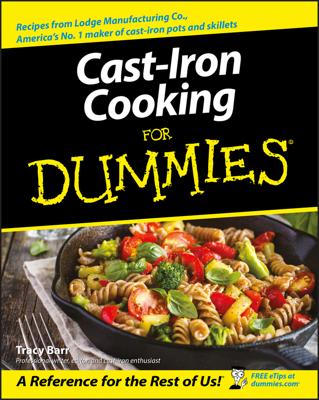 Food Prep Tools
Cast Iron Cooking For Dummies
In some cooking circles, cast iron gets a bad rep – people think it's old-fashioned, heavy, and hard to take care of. And really, how often do folks nowadays need to hitch up a mule and wagon and leave civilization and Teflon-coated sauté pans behind? True, cast iron is old; it's been around since the Middle Ages. And it is heavy. No one can dispute that even a small, cast-iron pot has a heft to it that no other cookware has. Nevertheless, cast-iron cookware has a place in today's kitchens, and that doesn't mean simply hanging on the wall for decoration. Cast iron has much to offer modern-day cooks; it's easy to use, easy to care for, economical, versatile, and durable, and let's face it, it has a nostalgic appeal that no other cookware has. But more compelling than all those reasons is that it's a great cookware that makes great food. In fact, most cast-iron cooks will tell you that food cooked in cast iron tastes better than food cooked in anything else! Cast-Iron Cooking For Dummies is for those cooks who may want to inject a little adventure and variety into their cooking. If you've never even thought of using cast-iron cookware, or you have a few cast-iron pots lying around, you'll discover all you need to know about making great food using cast iron. Here just a sampling of what you'll find in Cast-Iron Cooking For Dummies: Selecting the right cast-iron cookware for you Seasoning a new cast-iron pan Caring for your cast-iron cookware Discovering techniques to enhance your cast-iron cooking Enjoying cast-iron cooking in the Great Outdoors Tons of delicious recipes, from main and side dishes to desserts and international dishes Top Ten lists on ways to make your cast-iron cookware last longer, the best dishes suited for cast iron, and tips for achieving success in cast-iron cooking So, whether you're a cooking novice or an experienced chef, you can find plenty of enjoyment from cooking with cast iron – and Cast-Iron Cooking For Dummies can show you the way.
Explore Book
Buy On Amazon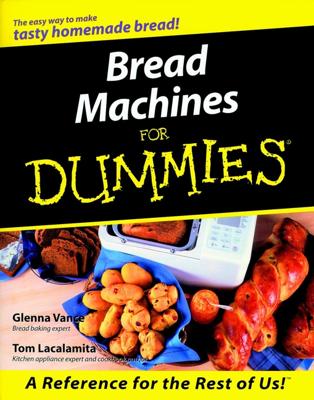 Food Prep Tools
Bread Machines For Dummies
There's nothing like the smell and taste of fresh homemade bread. But who has the time to make it anymore? You do—with a little help from your automatic bread machine. All bread machines can make good bread; they just need a little help from you to turn out a good loaf. With a little practice and a lot of fun, you too can make freshly baked bread in your kitchen with the touch of a button. Bread Machines For Dummies is for anyone who has ever been frustrated by a bread machine and wants to know if it's really possible to turn out great bread with a minimum of time and effort (it is!). This fun and easy guide shares simple techniques and more than 85 tested, foolproof recipes for making aromatic and flavorful breads—either for your bread machine or from dough that you shape yourself and bake in the oven. You'll see how to make: Soft white bread Cracked wheat bread Basic danish dough Babka and C hallah Bread bowls Bread sticks, pizza, and focaccia And so much more! This handy resource guide provides everything you "knead" to know about making bread, including the best ingredients to use, how to work with dough, and how to get the best results out of your machine. Along with plenty of cooking, measuring, and shopping tips, you get expert advice on how to: Shape simple doughs into beautiful breads Mix flours and liquids for perfect bread texture Adapt machine recipes for two loaf sizes Understand the different wheat flours Fit bread into a gluten-free diet Avoid moisture mistakes Make breads with alternative ingredients such as rice flour, potato starch, and tapioca flour Featuring a cheat sheet with standard measuring equivalents and temperature conversions, tips for troubleshooting your machine, and delicious recipes for such tasty delights as Cheddar Cheese Corn Bread, Pecan Sticky Rolls, Cranberry Nut Bread, and Banana Lemon Loaf, Bread Machines For Dummies reveals the best ways to bake, store, and enjoy your bread!
Explore Book
Buy On Amazon