Dating
If you're in the market for someone special, look here for tips on stellar first dates, safe online dating, and choosing the right partner.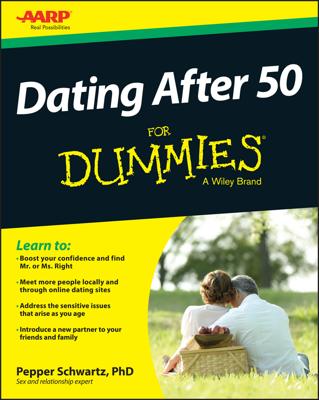 Dating
Dating After 50 For Dummies
Meet, date, and start a relationship with Mr. or Ms. Right–after 50 Almost everyone associates falling in love with their younger years, but as the boomer generation ages, more and more people over 50 are jumping back into the dating scene for the first time (in a long time) and need advice and guidance on how the dating world (and ways to find a soul mate) have changed since they last tested the water. Dating After 50 For Dummies covers the gamut of topics for those dating after 50: the physical and emotional benefits of sex and relationships as we age; dating confidence boosters; dating site options (and signing up for the first trial); safety concerns when dating; fun and different dating ideas; how to introduce a new partner to your children; and much more. Dating and relationship advice for baby boomers How to deal with medical issues that can make sex difficult Dating advice for gays and lesbians How to build self-esteem for dating after 50 If you're single and over 50, the trusted advice in Dating After 50 For Dummies gives you everything you need to get out there and meet the partner of your dreams.
Explore Book
Buy On Amazon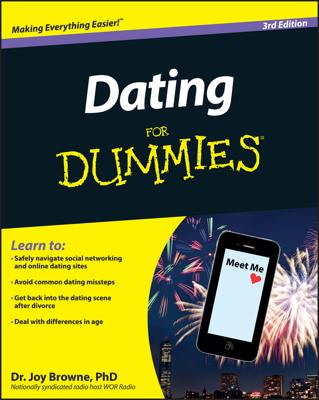 Dating
Dating For Dummies
Trusted guidance on meeting Ms. or Mr. Right With new and updated content, Dating For Dummies, 3rd Edition includes all the information you'll need for navigating the contemporary, social media driven dating scene where women and men Google potential dates beforehand, Tweet after, and even meet on Facebook. You'll find all you need to use these social media sites and take advantage of the ever-expanding ways to socialize, flirt, and date in the 21st century. With dating advice for singletons in all stages of life (including baby boomers), you'll get the confidence to date someone who is significantly older or younger, someone who has been previously married, or someone with children. Author Dr. Joy Browne, America's favorite psychologist, demystifies the whole dating process, from getting a date, plotting the place, and having a great time (or dealing with duds) to moving beyond a first date toward a budding relationship. Confidence boosters to help meet, date, and start a relationship with Mr. or Ms. Right Safe tips and advice on using social networks like Facebook and Twitter to meet new people The latest tips about dealing with money matters and dating diversity If you're looking for a fun Saturday night date or a happily-ever-after mate, Dating For Dummies is the guide for you!
Explore Book
Buy On Amazon
Dating
Online Dating For Dummies
Chances are, you've heard about Internet dating from a friend, or an online banner ad has caught your eye. If you've given online dating a passing consideration, you may have some fears from all those graphic horror stories that jar your senses – and your sensibilities. Or you may think that meeting people via the Internet is only for the disenfranchised or socially unskilled. From their own experiences, 20 million people can tell you otherwise. Online Dating For Dummies will get you off the fence and on the Internet dating path – with the skill of a seasoned pro. Like your best friend, this fun reference will give you the straight scoop on Gearing up with the right computer hardware Overcoming preconceived notions of who is online Talking the online lingo Enjoying conversation in chat rooms Considering date site options Establishing your screen identity Facing the consequences of not posting a photo Internet dating is growing at double-digit rates every year, while other forms of finding a connection are flat or falling off. Internet dating, although far from perfect, is becoming the most effective and efficient method of getting introduced to a large number of available singles. Online Dating For Dummies shows you how to get your feet wet and how to dive in, making informed choices and exercising good judgment as you Sign up for a trial run on a dating site Try to describe yourself for your personal profile Initiate your first e-mail contact Make your first in-person meeting memorable Identify frauds and players Figure out what not to do if you really want to meet someone Jumping into online dating with no preparation at all is possible – but not practical. If you follow the techniques in this friendly guide, your odds of meeting great potential matches will greatly improve, and you'll have far more fun in the process.
Explore Book
Buy On Amazon