Cryptograms
Come on in and crack the code. We have cryptography basics, challenging puzzles to amuse and confuse, and tips for solving the trickiest ciphers.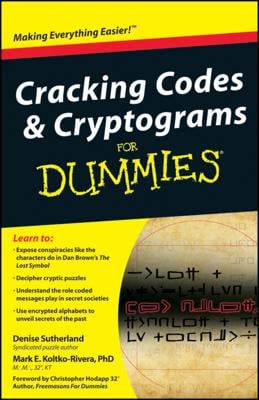 Cryptograms
Cracking Codes and Cryptograms For Dummies
The fast and easy way to crack codes and cryptograms Did you love Dan Brown's The Lost Symbol? Are you fascinated by secret codes and deciphering lost history? Cracking Codes and Cryptograms For Dummies shows you how to think like a symbologist to uncover mysteries and history by solving cryptograms and cracking codes that relate to Freemasonry, the Knights Templar, the Illuminati, and other secret societies and conspiracy theories. You'll get easy-to-follow instructions for solving everything from the simplest puzzles to fiendishly difficult ciphers using secret codes and lost symbols. Over 350 handcrafted cryptograms and ciphers of varying types Tips and tricks for cracking even the toughest code Sutherland is a syndicated puzzle author; Koltko-Rivera is an expert on the major symbols and ceremonies of Freemasonry With the helpful information in this friendly guide, you'll be unveiling mysteries and shedding light on history in no time!
Explore Book
Buy On Amazon