Beer
Tap into beer basics, brew types, ingredients, recipes, pairings, tastings, and more.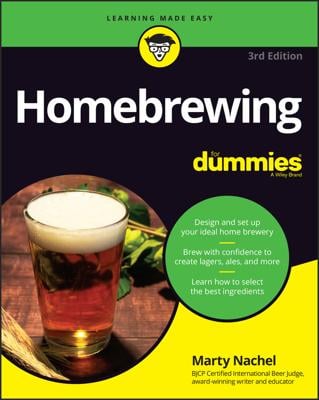 Beer
Homebrewing For Dummies
Get hoppin' with this guide to microbrewing your own beer Thinking of brewing your own beer or want to know how it's done? Homebrewing For Dummies is for you. If you're ready to take a crack at making your own brew, you'll need this guide to the supplies, ingredients, and process of crafting the perfect beer. Follow our recipes for lager, porter, stout, and other brew types—or invent your own. When you've tasted your perfect creation (and after the hangover wears off), we've got you covered with ideas for entering your beer into homebrewing competitions and selling your beer. This new edition keeps pace with the exciting world of small-batch beer, introducing you to new flavors and varieties that are popular on the microbrew circuit. We've also got the details on the latest at-home brewing equipment, software and apps, and resources you can tap (get it?) to make a better beer. Not an IPA person? Not to worry! You can also make your own hard seltzers, flavored malt beverages, and juice drinks with this handy how-to. Get recipes and instructions for brewing lagers, porters, and other beers at home Enhance the quality of your small-batch brews and make your operations more eco friendly Enter homebrewing competitions with your beer, hard seltzer, and malt beverages Discover new gadgets, apps, and resources that can make home brewing even easierHomebrewing For Dummies is for anyone looking for a fun and easy-to-use guide to the exciting, rewarding, and refreshing hobby of beer brewing.
Explore Book
Buy On Amazon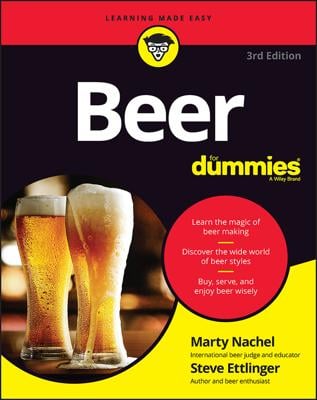 Beer
Beer For Dummies
Become fluent in the universal language of beer Beer For Dummies is your companion as you explore the wide world of the third most-consumed beverage globally. Learn to recognize the characteristics of ales, lagers, and other beer styles. Perfect beer-and-food pairings. And embark on the ultimate beer tour, Dummies-style! Whether you're a beer novice or a brewery regular, there's always something new to learn. We'll help you pick the right beer for any occasion, understand why beers taste the way they do, and give you a handy reference to their strengths and ideal serving temperatures. This updated edition takes you a journey around the world of new beers—hazy-juicy in the U.S., Italian grape ale, Brazilian Catarina sour. You'll also get up to date on the latest beer review apps and how the internet is shaping and reshaping beerdom. Cheers! Make an informed choice when selecting a beer and pairing with food Learn the fascinating process of brewing the different types of beer Discover world beer culture and new beer innovations Heighten your enjoyment of the subtleties of craft beerThis book is an excellent resource for aiding your understanding, purchasing, drinking, and enjoyment of beer.
Explore Book
Buy On Amazon