Arabic
Boost your ability to read, write, and speak this rich language.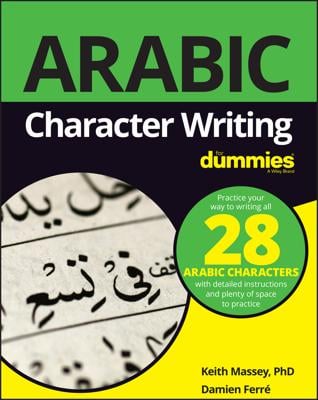 Arabic
Arabic Character Writing For Dummies
Published 11-05-2019
Learn to write in Arabic In Arabic, there are different levels of language. The written language, which is studied in this book, is literary Arabic, sometimes also called classical Arabic or even modern or standard Arabic. It is the language of the Quran, classical poetry, literature and the media. The Arabic plume consists of 28 consonants and three long vowels. Each consonant is accompanied by a vowel which is placed above or below the consonant. Arabic speakers are in great demand in the United States, due to the country's political commitments to the Middle East, but only 25 percent of non-native speakers know the language in enough detail to function as translators, interpreters, analysts, or field agents. Arabic Character Writing For Dummies helps you write this language clearly and correctly. Learn to write the Arabic alphabet Find free instructional videos, flashcards, and printable writing pages online Build upon your mastery of the language Get ahead at work or in your personal life Arabic Character Writing For Dummies is designed for beginners, students, and lifelong learners wishing to write in Arabic.
Explore Book
Buy On Amazon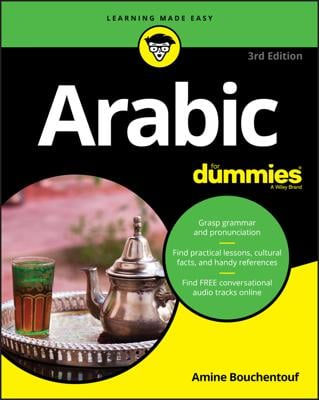 Arabic
Arabic For Dummies
Published 10-09-2018
Start reading and speaking Arabic Arabic For Dummies helps readers start speaking Modern Standard Arabic in no time. Whether you're a student, traveler, or work in business or government, you'll find this title to be packed with practical lessons, cultural facts, and handy references. Inside, you'll find guidance on basic grammar, as well as the necessary vocabulary to make introductions and greetings, use proper etiquette, make small talk, make transportation arrangements, order food and beverages, ask directions, deal with money, shop, access recreation, and handle an emergency. Features new and revised content Offers a revamped, user-friendly design to both pedagogy and organization Includes expanded coverage of grammar, verb conjugations, and pronunciations Get free access to conversational audio tracks online If you want to start speaking Arabic, this go-to book is packed with practical instruction, cultural facts, and handy references you won't want to be without!
Explore Book
Buy On Amazon
Arabic
Arabic Phrases For Dummies
Published 03-09-2009
A portable guide to help you quickly learn common phrases in Modern Standard Arabic Today, Arabic is spoken throughout the Middle East, from Morocco to Iraq. The language of the Koran and Islam, Arabic is also studied by more than one billion people for religious reasons. This practical guide offers help on basic Arabic words and phrases and eases communication with Arabic speakers. Written as a companion to Arabic For Dummies, Arabic Phrases For Dummies provides readers with the tools to converse with others in Modern Standard Arabic (MSA) on a basic level. The most widely used and understood form of Arabic in the world, MSA is used in schools, news broadcasts, and other formal settings. If you want to brush up on your Arabic language skills or have little to no experience with the language, this book can help you quickly learn everyday expressions so you can communicate basic information in Arabic. Although Arabic Phrases For Dummies focuses on MSA, this concise book includes examples from regional dialects, the most informal type of Arabic. You'll have many opportunities to practice Arabic language skills in various scenarios: Counting days and money Telling the time Introducing yourself and making small talk Ordering meals and shopping Engaging in leisure or work activities Finding transportation and lodging Taking care of emergencies Additionally, the book has plenty of real-world phrases to illustrate grammatical concepts, and a chapter on proverbs to emphasize the poetic nature of Arabic. To start speaking conversational Arabic, get your copy today.
Explore Book
Buy On Amazon