How to Draw a Basic Pair of Fashion Pants
How to Draw a Basic Pair of Fashion Pants
Pants are pretty simple to draw: They start around the waist and follow the legs down to the vicinity of the feet . . . although in today's fashion, they can also start somewhere around the middle of the derrière and end anywhere from just below the knee to the ground!
They can't be called pants if they don't have two legs, but the pant legs can hug the body or flow outward and can end above the ankle or drape the floor. The pants designation may also encompass shorts, which end, well, anywhere south of the derièrre!
Conveying a pair of fashion pants takes about eight lines. To draw not-too-tight, not-too-loose pants, follow these steps: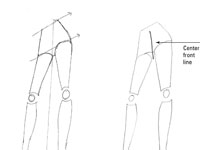 1

Draw the lower half of your figure using a front grounded pose.

Use pencil so you can erase the lines.
2

Draw a straight line at the center front.

If you're drawing a midline waist, start the center line below where the belly button would be and end it just past the crotch. If you're drawing low-rise or high-waisted pants, adjust the length of your center front line accordingly. Use pen for this step, because the center line will be part of your final drawing.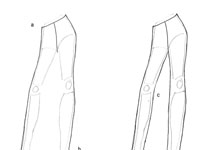 3

Draw a slightly curved line around the waist, putting the waistline where it fits the pant style best.

In basic fashion pants, the waistline should fall a little below the belly-button. The true waistline falls slightly above the bellybutton, but few people actually wear their pants there. For a high-waist look, go above the bellybutton. For low-rise pants, place the waistline as far below the natural waistline as you want to go.
4

Add straight lines down the outside of the legs to the spot where you want the pants to end.

Decide how tight or loose fitting you'd like the pants to be. Tight pants follow the leg lines closely; loose pants follow gravity and fall away from the body to the floor.
5

Draw the inseam lines (on the inside of the legs), starting from the bottom of the center front line and ending at the bottom of the pants.

Almost all pants have a center front line; it's a law of nature for sewing. It's rare for bifurcated garments (a fancy name for pants or shorts) not to have a center front seam. You're used to looking at the body straight on, but people also have a third dimension from the front to back that needs some sort of seam.
6

Connect the inner and outer lines of the pant legs at the hem with a line just above each foot.

The shape of the hemline depends on the type of pants. For example, if the pant legs fall to the floor, they pile up around the foot. If they're tapered or tight, they may curve up and around the ankle.